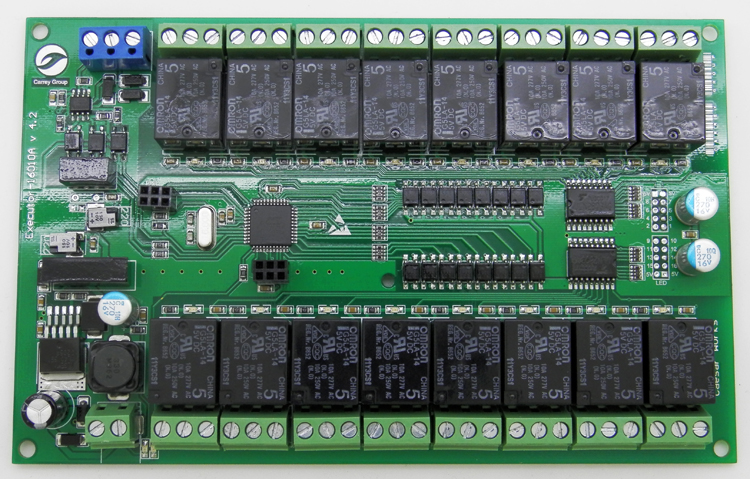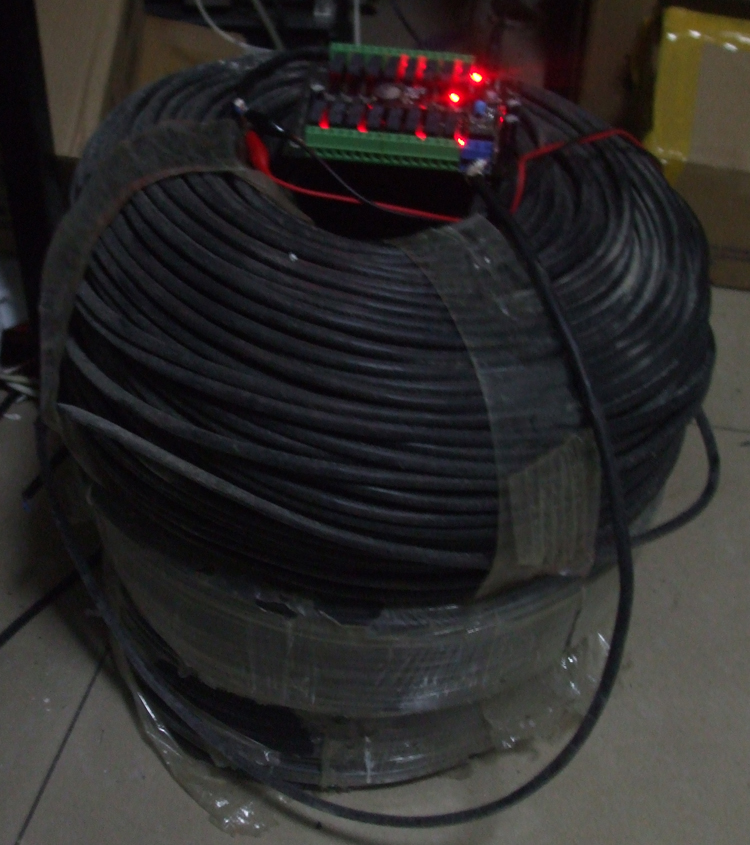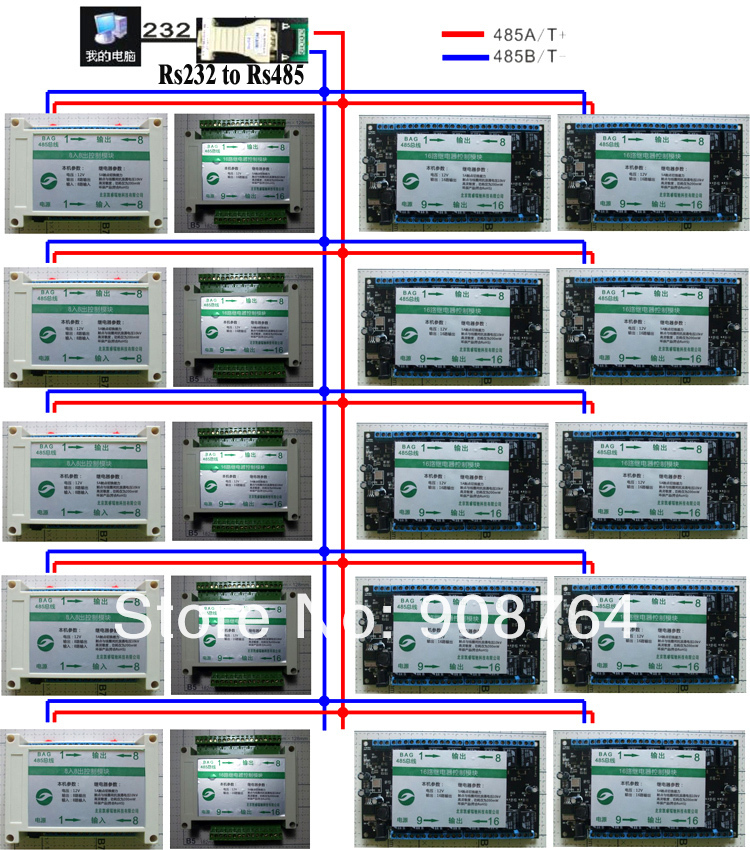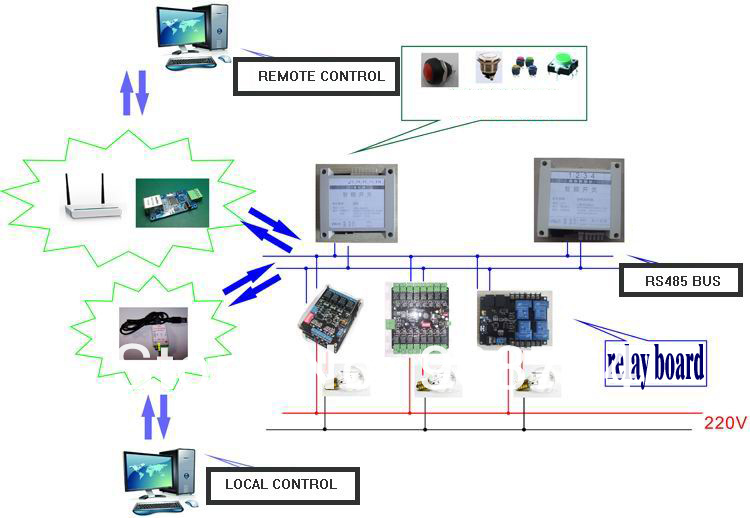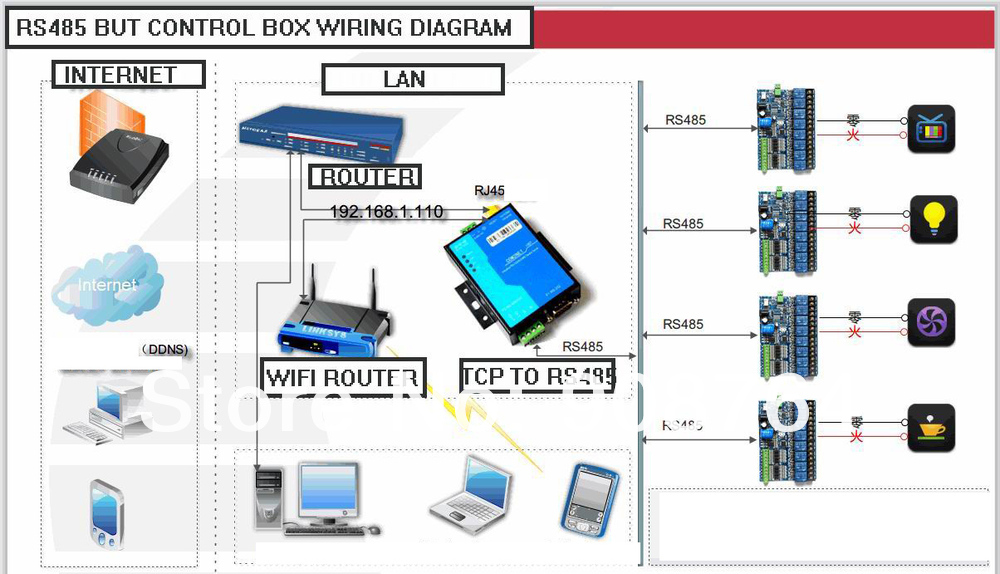 the control module support MODBUS

Parameters:

Contacts capacity: 10 A / 125 VAC10A / 277 VAC

Durability: 100000 times

Data interface: RS-485

The rated voltage: DC 12 V / 24 V

Control mode: computer software or embedded system 16 road relay control panel, contacts output, 232 or 485 communication,

can be set to address 0-255, many machine cascade. Most control 16 *256 = 4096 nodes

Support MOUBUS-RTU agreement, can use configuration software control,provide 24 V version).

Another compatible with custom simple bus protocol for PC software

programming with an angel.

Plate size: 165 mm x 155 mm

Installing hole diameter: 3.5 mm

Installing hole spacing: 155 mm x 147 mm

The power supply voltage: 12 V (if needed 24 V power supply please explain)

The source current: the biggest 1 A

Contacts capacity: AC250V10A, DC30V10A

Output instructions: 16 relay output has 16 output indicator

Communication protocol: the 232 agreement communication, baud rate 9600, 8 a data bits, a stop bits, no parity. Each data frame contains

eight bytes. Two-way data transfer, data contains calibration and bytes, if data validation and error, the data will be abandoned, thus

it can completely avoid interference in wrong action because bring

Features: SCM input/output all adopt the light coupling isolation, the

control part can be alone can also with relay power supply to use the same power supply.

Communication part: part of communication power adopt isolation power

supply (electrical all the isolation) power supply, signal use light

coupling isolation. Fully guarantee the communication with the computer security

SCM: atmega16 industrial chip, strong anti-jamming

Software: the supporting VB PC test software and source code, giving

the other time control software.

Communications bus: 485 bus
Each contacts electrical performance: 220 V 10 A
CPU: ATMEGA
Power supply: the 12 V / 24 V
Stack: can stack
Communication protocol: MODBUS and private agreement

Suitable for: household decoration, sprinkle the shop hotel, market

workshop, Internet bar, office, entity shop monitoring, the thing

networking and control engineering equipment, test equipment, equipment

motherboard, unattended, underground pipelines, mining equipment, ship,

machine standing room, street lamp management, intelligent management,

centralized management.