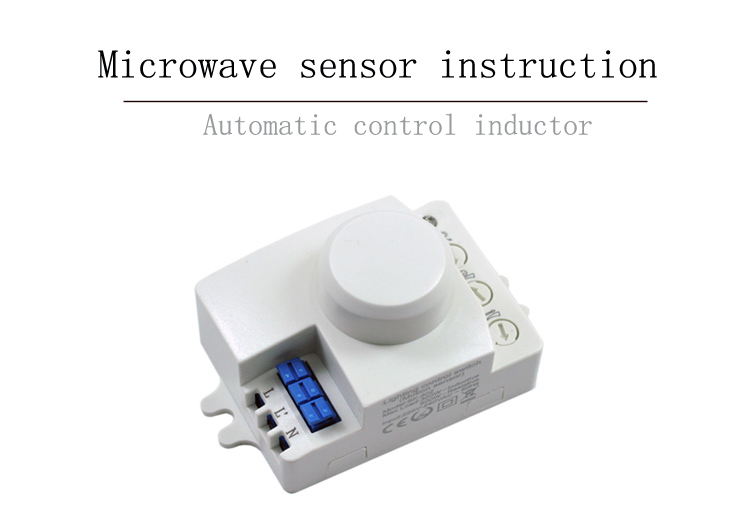 1. Control principle:
Microwave sensor is the use of Doppler principle, launch and receive high-frequency microwave signals (accurate perception of object movement changes), through the signal amplification and single-chip program intelligent identification, control the load lamp on (off) and off (off).
* Doppler principle that the principle of radar, widely used in aviation, aerospace, military aspects.
2. Intelligent sensor:
1> When someone (moving object) enters the induction detection range (within 16m diameter), the load lamp lights up; when the person passes through the sensing detection range and the set delay time is finished, the load lamp automatically turns off.
2> When the person into the sensor detection range, the load lights have been lit, such as people have been stuck in the sensor detection range, set the delay time before the end of the countdown, as long as people have a slight movement (including the movement of the body) The sensor will drive the load lamp to continue to light until the person leaves and set the time after the countdown, the load lights automatically extinguished.
3. Intelligent identification:
1> Simply put, this product can be set to daylight light does not shine, at night when the light was lit; can also be set according to demand for any time are lit.
2> This product has a variety of bright set options, customers can adjust according to their needs to meet the different circumstances of light lighting conditions.
3> This product can be set within the range of the induction distance, within the radius of 1-8M.
4. Anti-jamming:
As we all know, there are many different frequencies in the space of the signal (such as the phone's 3GHz signal, wifi 2.4GHz signal, TV remote control 433KHz signal, sound signal, etc.), some signal contact and similar to the human body sensor signal, Our products can be intelligent to identify useful sensor signals, to prevent other interference signal false trigger light, to ensure product reliability.
The advantages of contrasting infrared sensors are as follows:
1. can penetrate the object, so you can choose concealed.
2. Not affected by temperature, such as infrared sensor will be in the temperature of about 37 degrees will be effective, such as summer, indoor, outdoor, or other operating environment may be higher than this temperature.
3. Infrared sensor, need to pass the lens, the induction angle is small, blind area, radar sensor almost no blind spot.
3. Infrared sensor will be subject to air dust, dust will affect the sensing distance.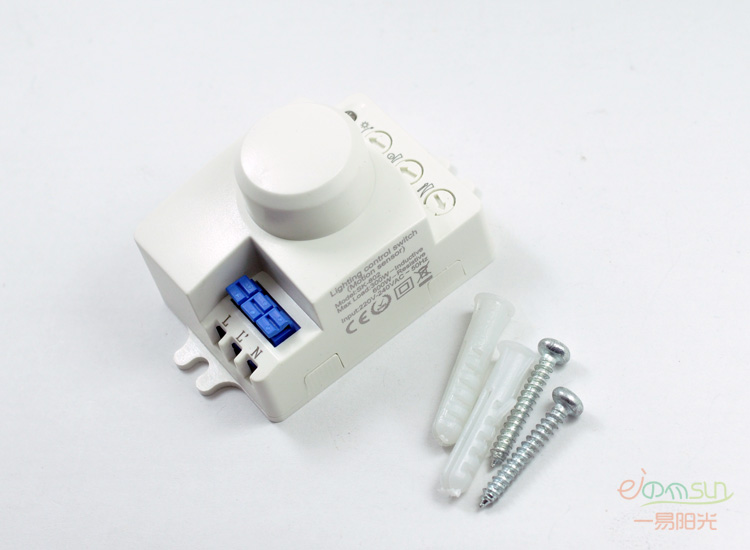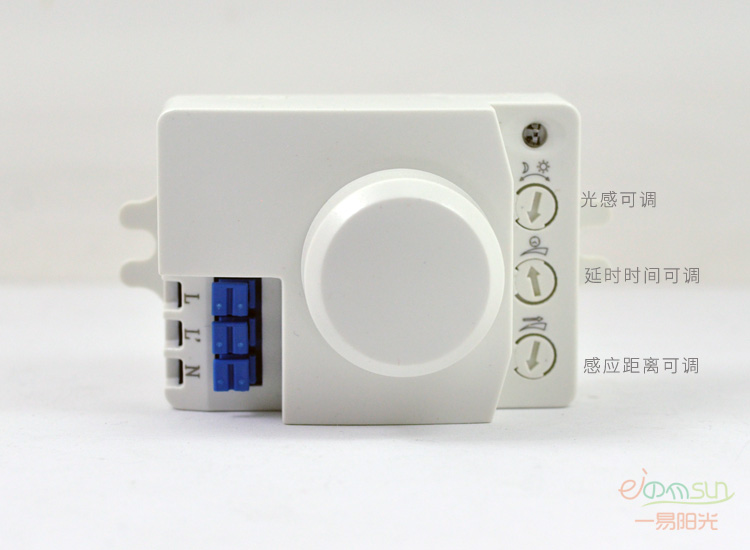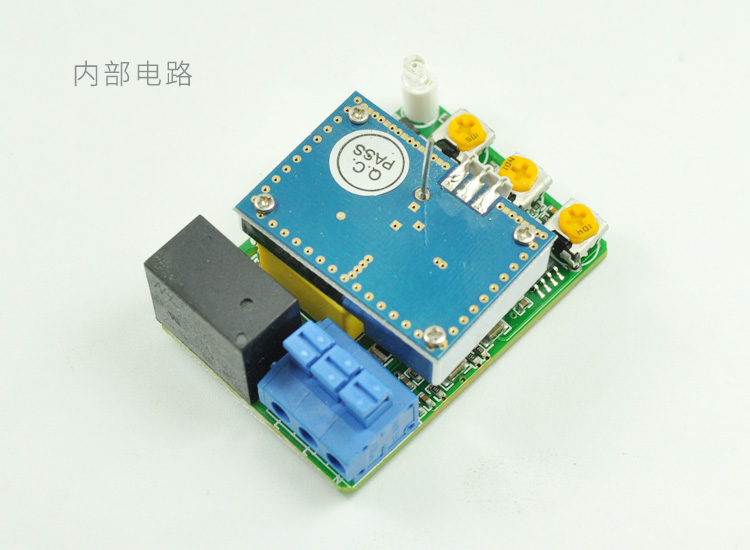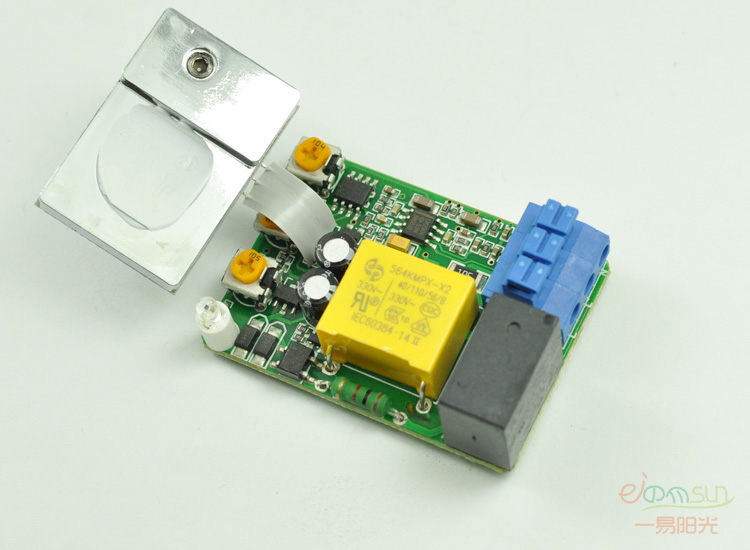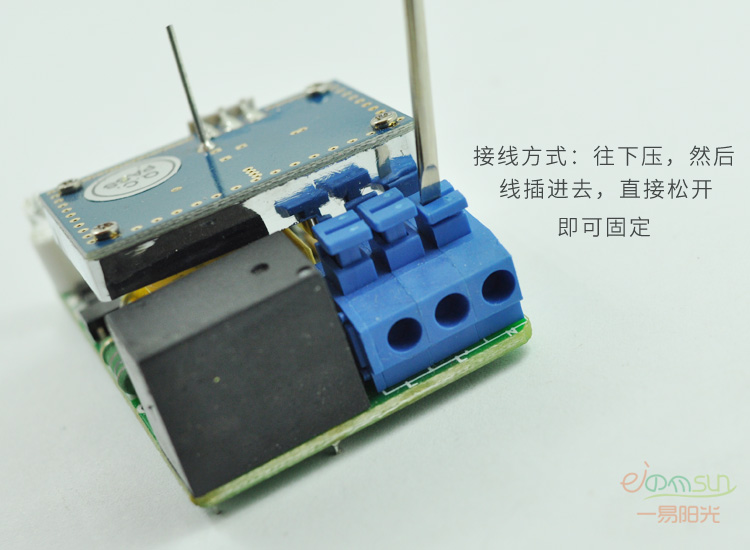 1. Appearance and size

Power supply: 220-240VAC
Power frequency: 50/60Hz
HF system: 5.8GHz +/-75MHz CW radar, ISM band Max load:300W - lnductive
600W - Resistive Power consumption:approx.0.5W Product size(L*W*H) :68*41*39mm
Installation sit: ceiling mounting Reach:1-8m(radii.), adjustable Time setting:8sec to 12min Detection angle:360°
Light control:5~2000LUX Transmission power :<0.2mW Operating temperature:-15℃~+70℃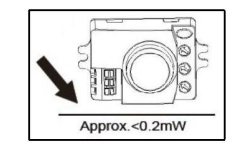 NOTE: The high-frequency output of this
sensor is <0.2Mw-that is just one 5000th of the transmission power of a mobile phone or the output of a microwave oven.
3. Induction range

4. Utilizing field and introduction
SK-802 is an active motion detector with adjustable sensitivity, daylight detection and time setting. It's based Doppler principle and RADAR technology, adopting rod antenna & high performance micro-chip. It is easy to install, provide high probability of detection, low nuisance alarms and resistance to rain, fog, wind, dust, falling snow and temperature extremes. The product detect range of 360°and its working frequency is 5.8G.The advantage of this product is stable working state (stable working temperature: -15°C~+70°C), SK-802 adopts a microwave sensor (high-frequency output<0.2mW),so that it is safe and performs better than infrared sensor. It can be installed inside of product that is made of glass and plastic because that these materials make little effect to microwave.
Connect the product as shows below; you can change a common light to an automatic light.