solar controller 20a, solar charge controller 20a,solar regulator 20a, solar panel charge controller 20a, solar controller
Solar Charge Controller 20A LCD Dual USB Output 5V Mobile Charger 12V 24V Adjuatable Parameter Solar Panel Regulator CM20K-20A
Battery option Voltage settable Dual USB Ports
Package:
1.1X 20A Solar Contorller
CM20K controller is a kind of intelligent, multi-purpose solar charge and discharge controller. Fixed LCD display with a very friendly interface is used in this product; various control parameters can be flexibly set, fully meet your various application requirements.
1.Build-in industrial micro controller.
2.Big LCD display,all adjustable parameter.
3.Fully 4-stage PWM charge management.
4.Build-in short-circuit protection,open-circuit protection,reverse protection,over-load protection.
5.Dual mosfet Reverse current protection ,low heat production.
Features:
1. Floating charge Voltage(HVD 13.3V-15V)
2. Recovery after under Voltage(LVD 11V-13.5V)
3.Under Voltage protection (RVD 9V-12.3V)
4.Load Mode(24hours,1-23hours,0hour)
5.Battery Option (GEL,LEAD-ACID,FLOODED)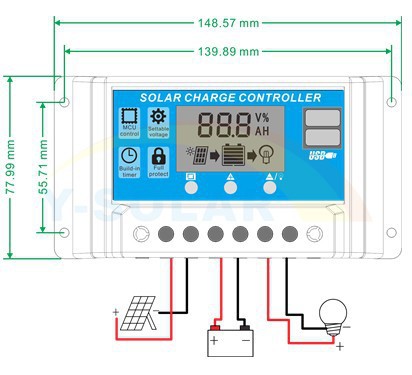 Data Sheet
MODEL

CM20K-10A

CM20K-20A

Batt voltage

12V/24V auto

Charge current

10A

20A

Discharge current

10A

20A

Max Solar input

<50V

Equalization

B01 sealed

B02 Gel

14.4V

14.2V

Float charge

13.7V(defaul,adjustable)

Discharge stop

10.7V(defaul,adjustable)

Discharge reconnect

12.6V(defaul,adjustable)

USB output

5V/3A

Self-consume

<10mA

Operating temperature

-35~+60 degree C

Size/Weight

150*78*35mm /150g