Tracer 4210A + WIFI BOX Mobile Phone APP EPsloar 40A MPPT Solar Charge Controller communication
Package including:
1. 1pcs mppt solar charge controller 40A 100V
2. 1pcs MT50 LCD display (Optional)
3. 1pcs USB PC communication cable (optional)
4. 1pcs remote temperature sensor (optional)
5. 1pcs ebox-WIFI-01 (optional)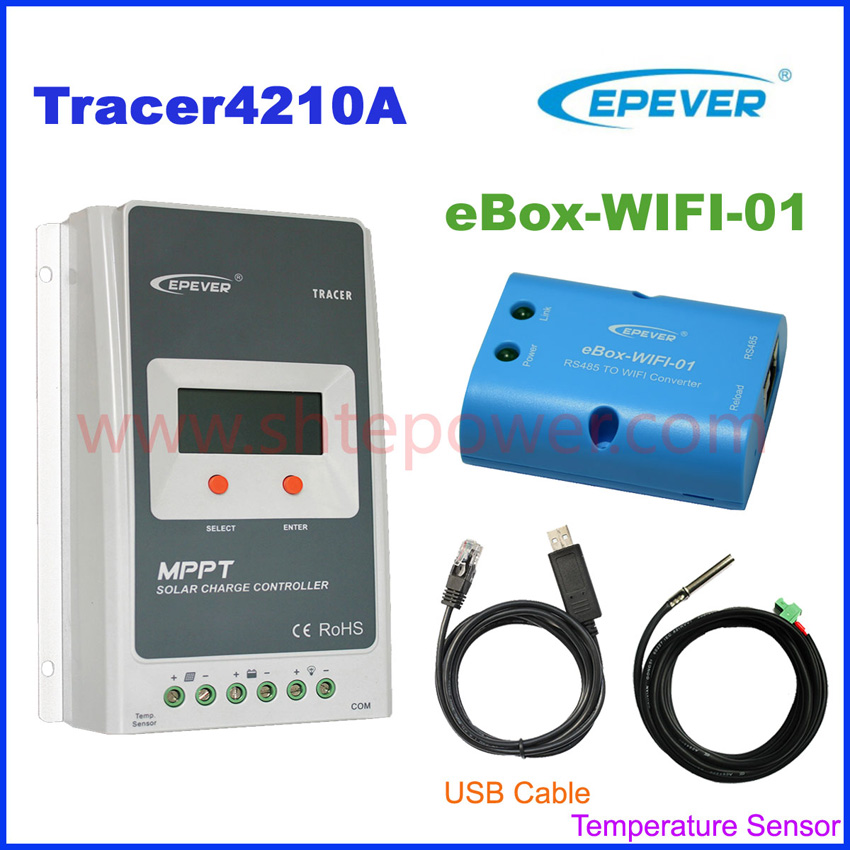 Tracer-A series is based on common positive design and advanced MPPT control algorithm, with LCD displaying running status, this product is artistic, economical and practical.
With MPPT control algorithm, in any situation, products of this series can fast and accurately track out the best maximum power point (MPPT) of photovoltaic array, in order to obtain the maximum solar energy in time, which remarkably improves energy efficiency. There is dual display function: local LCD panel or remote meter (needs extra MT50). With Modbus communication protocol interface, it is convenient for customers to expand applications and monitor in various fields like telecommunication base station, household system, street lighting system, wilderness monitoring system, etc.
All-round electronic fault self-test function and enhanced electronic protection function could furthest avoid damages on system components resulting from installation errors or system failures.
Features:
1. Advanced Maximum Power Point Tracking (MPPT) technology, with efficiency no less than 99.5%.
2. High quality components, perfecting system performance, with maximum conversion efficiency of 98%.
3. Ultra-fast tracking speed and guaranteed tracking efficiency.
4. Accurately recognizing and tracking of multiple power points.
5. Reliable automatic limit function of maximum PV input power, ensuring no overload under any circumstance.
6. Wide MPP operating voltage range.
7. 12/24VDC automatically identifying system voltage.
8. LCD panel display design, dynamically displaying tool's operating data and working condition.
9. Multiple load control modes: manual control, light ON/OFF, light On+Timer and test mode.
10. Support 3charging preprogram options: Sealed, Gel, Flooded.
11. Battery temperature compensation function.
12. Real-time energy statistics function.
13. With RS-485 communication bus interface and Modbus communication protocol, it is available to meet various communication requirements in different situations.
14. Available for network module (eBox--01)with protocol TCP/UDP/SNMP, to realize connection to internet.
15. Available for PC monitoring and external display unit connecting like MT50 and so on, realizing real-time data checking and parameters setting.
16. Support software upgrade.
Electronic protections:
• PV reverse polarity protection
• PV short circuit protection
• PV over current alarm protection
• Battery overcharge protection
• Battery over discharge protection
• Battery reverse polarity protection
• Load short circuit protection
• Load overload protection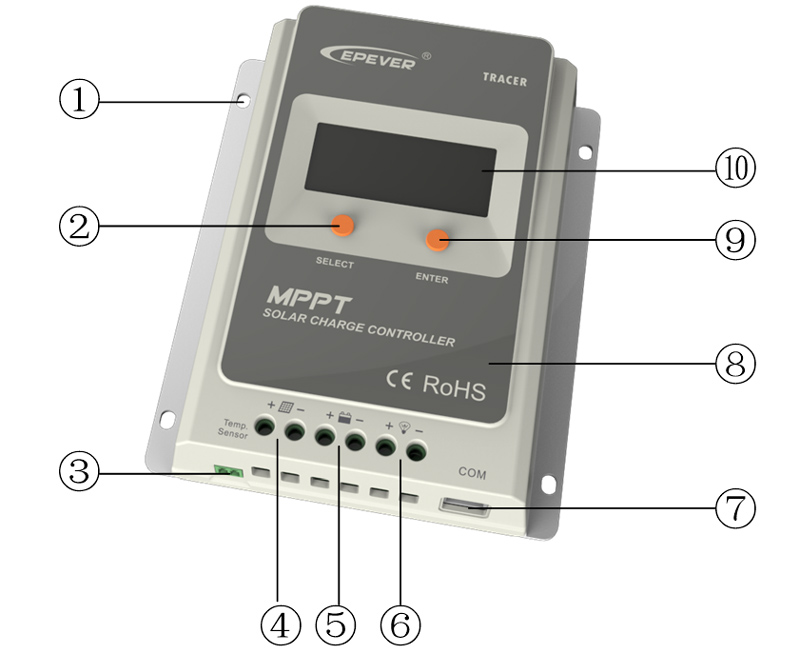 1 –Mounting hole sizeΦ5
2 –Select Button
3 –Connection for a RTS (Remote Temperature Sensor) to remotely detect battery temperature.
4 –Solar Module Terminals: Connect solar modules.
5 –Battery Terminals: Connect batteries.
6 –Load Terminals: Connect loads.
7 –RS-485 Port (RJ45 interface): Connect with PC or MT50 to monitor or update firmware.
8 –Product shell
9 –Enter Button
10 – LCD
Technical Specifications
• Electrical Parameters
| | |
| --- | --- |
| Description | Parameter |
| Nominal system voltage | 12VDC / 24VDC Auto work |
| Rated charge current | Tracer4210A 40A |
| Rated discharge current | Tracer4210A 40A |
| Battery voltage range | 9V~32V |
| Max. solar input voltage | 100VDC |
| MPPT voltage range | VBAT +2V~90V (Voc. less than 100V) |
| Max. PV input power | Tracer4210A 520W(12V) 1040W(24V) |
| Self-consumption* | ≤20mA(12V) ≤16mA(24V) |
| Temperature compensate coefficient | -3mV/ºC/2V(default) |
| Communication | RS485(RJ45 interface) |
• Environmental Parameters
| | |
| --- | --- |
| Environmental | Parameter |
| LCD temperature range | -20 to +70 |
| Ambient temperature range | -25 to +45 |
| Storage temperature range | -35 to +80 |
| Humidity range | ≤95%(NC) |
| Enclosure | IP30 |
• Mechanical Parameters (Tracer1210A)
| | |
| --- | --- |
| Mechanical | Parameter |
| Dimension | 252mm x 180mm x 63mm |
| Mounting dimension | 210mm*171mm |
| Mounting hole size | Φ5 |
| Power cable | 10mm2 |
| Weight | 2.4kg |
Annex I Conversion Efficiency Curves
Illumination Intensity: 1000W/m2 Temp: 25ºC
Model: Tracer4210A
Solar Module MPP Voltage(17V, 34V, 68V) / Nominal System Voltage(12V)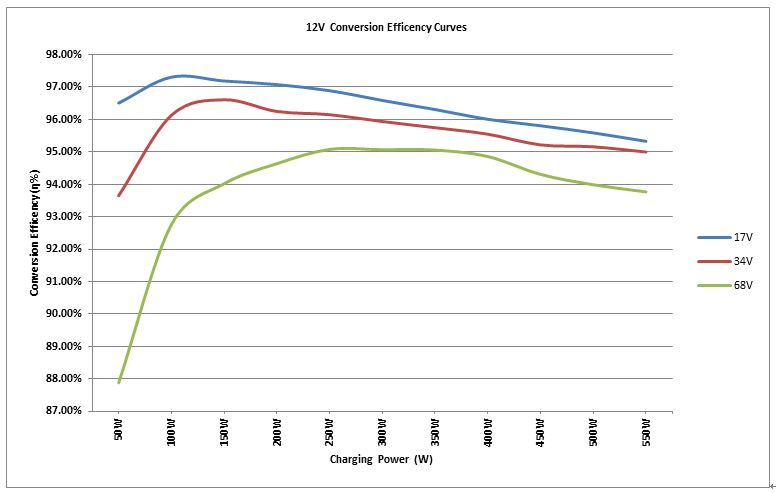 Solar Module MPP Voltage(34V, 68V) / Nominal System Voltage(24V)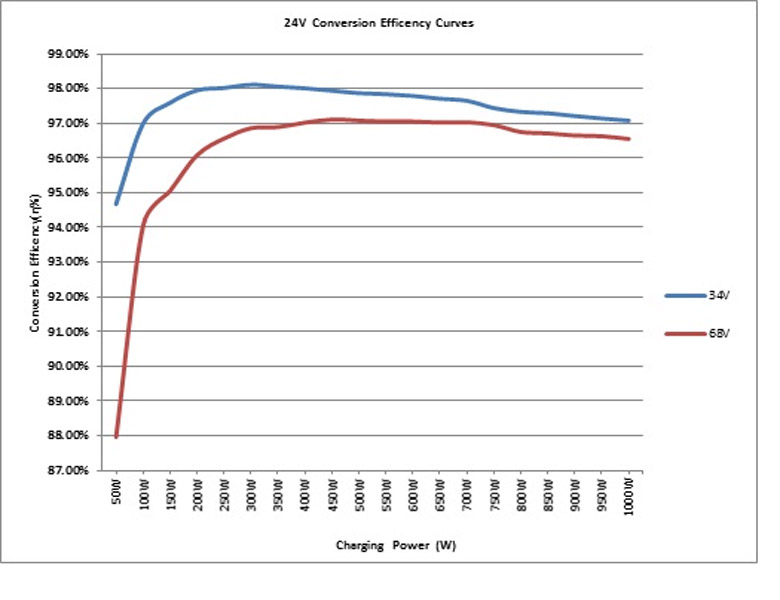 Maximum Power Point Tracking Technology
Due to the nonlinear characteristics of solar array, there is a maximum energy output point (Max Power Point) on its curve. Traditional controllers, with switch charging technology and PWM charging technology, can't charge the battery at the maximum power point, so can't harvest the maximum energy available from PV array, but the solar charge controller with Maximum Power Point Tracking (MPPT) Technology can lock on the point to harvest the maximum energy and deliver it to the battery.
The MPPT algorithm of our company continuously compares and adjusts the operating points to attempt to locate the maximum power point of the array. The tracking process is fully automatic and does not need user adjustment.
As the Figure 1-2, the curve is also the characteristic curve of the array; the MPPT technology will 'boost' the battery charge current through tracking the MPP. Assuming 100% conversion efficiency of the solar system, in that way, the following formula is established:
Normally, the VMp is always higher than VBat, Due to the principle of conservation of energy, the IBat is always higher than IPV. The greater the discrepancy between VMp &VBat,the greater the discrepancy between IPV& IBat. The greater the discrepancy between array and battery, the bigger reduction of the conversion efficiency of the system, thus the controller's conversion efficiency is particularly important in the PV system.

Figure 1-2 is the maximum power point curve, the shaded area is charging range of traditional solar charge controller (PWM Charging Mode), it can obviously diagnose that the MPPT mode can improve the usage of the solar energy resource. According to our test, the MPPT controller can raise 20%-30% efficiency compared to the PWM controller. (Value may be fluctuant due to the influence of the ambient circumstance and energy loss.)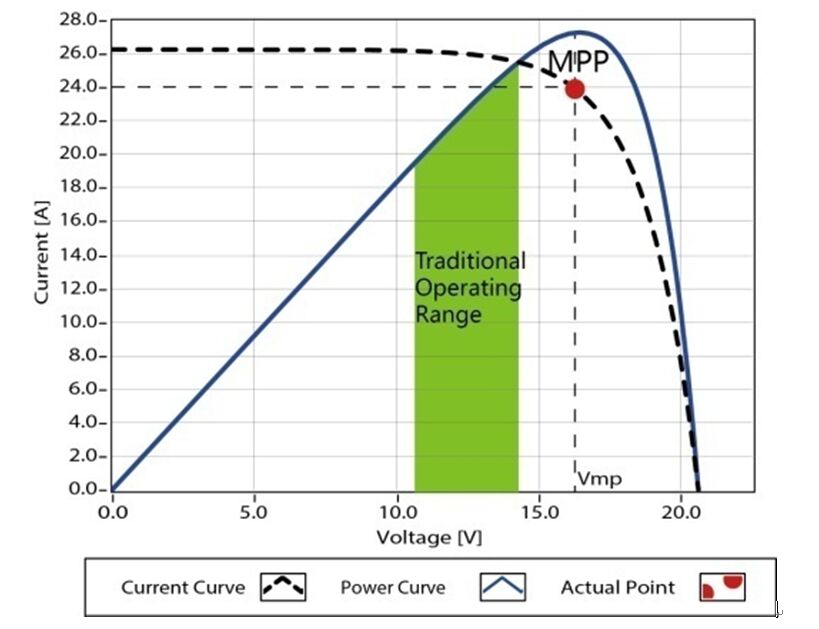 Figure 1-2 Maximum Power Point Curve
In actual application, as shading from cloud, tree and snow, the panel maybe appear Multi-MPP, but in actually there is only one real Maximum Power Point. As the below Figure 1-3 shows: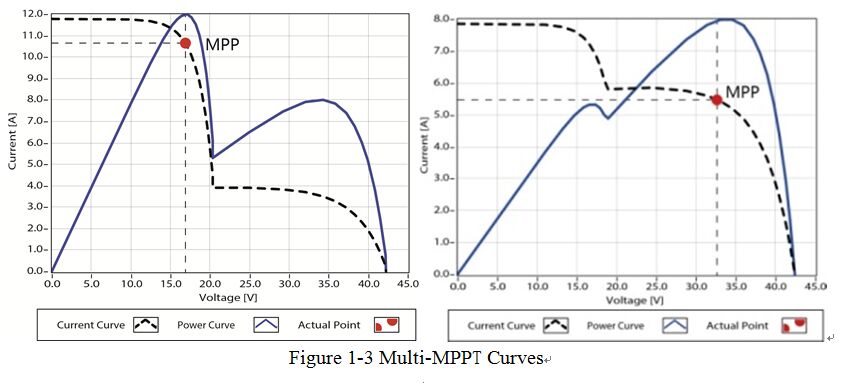 If the program works improperly after appearing Multi-MPPT, the system will not work on the real max power point, which may waste most solar energy resources and seriously affect the normal operation of the system. The typical MPPT algorithm, designed by our company, can track the real MPP quickly and accurately, improve the utilization rate of the array and avoid the waste of resources.
Remote Meter (Model:MT50)
The digital remote meter displays system operating information, error indications, and self-diagnostics. Information displayed on a backlit LCD display is easy to read and large buttons make navigating the meter menus easy. The meter can be flush mounted in a wall or frame. The MT50 (standard edition) is supplied with one 2 meter long cable. The MT50 connects the Tracer-BN series with the RJ45 interface.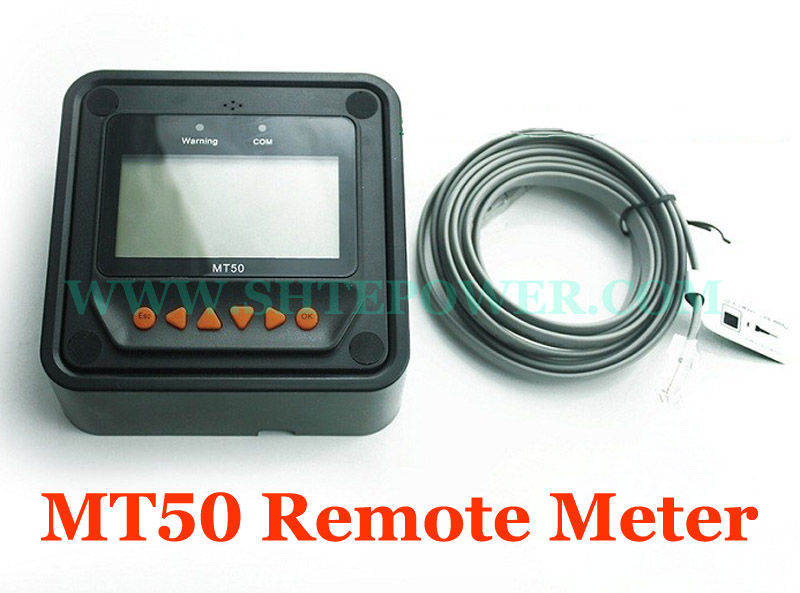 USB Communication Cable and Temperature Sensor Cable: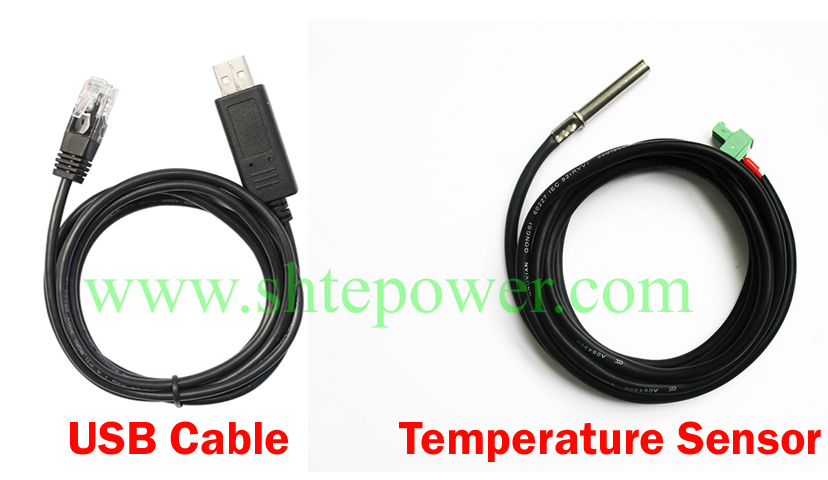 Connection: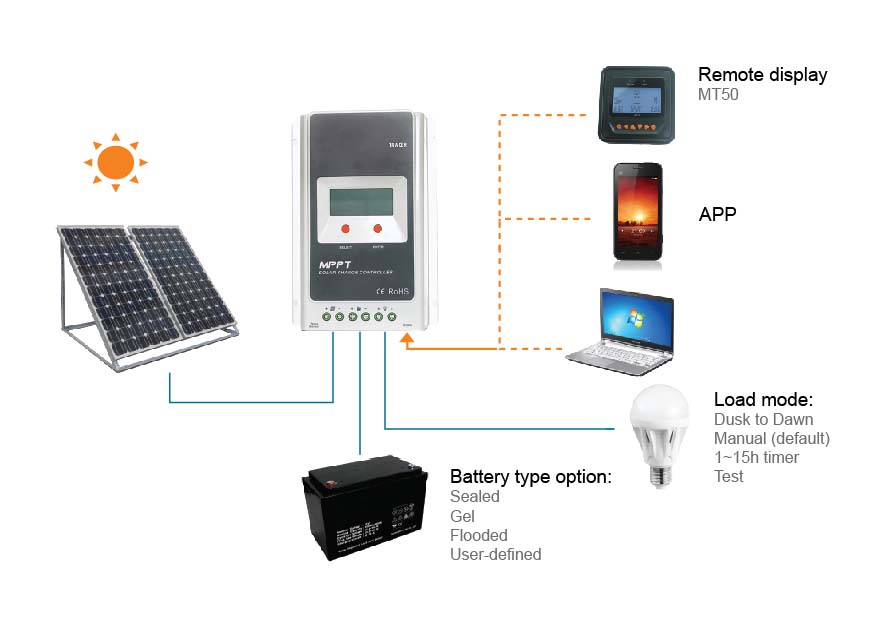 eBox-WIFI-01 WIFI Serial Server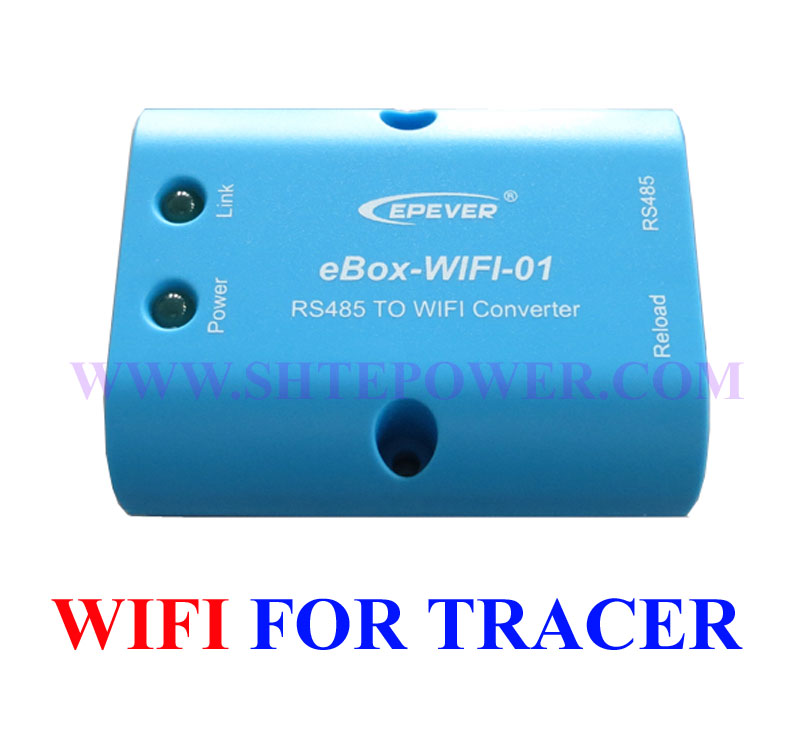 eBox-WIFI-01 is a kind of serial server which can make our company's solar controller be with WIFI communication function, and carry out wireless monitoring, parameter settings, and etc. for the system only by cooperating with mobile phone APP. Plug and play, simple and convenient set, it has many excellent features.
Main features:
1. Realize wireless monitoring function of solar controller
2. Support mobile phone APP, lug and play, simple and convenient to set
3. Use high performance CPU with core M4
4. Ultra-low power consumpution and high speed data processing capability
5. No need of external power supply
6. Communication distance up to 50m
7. One-key restore the factory settings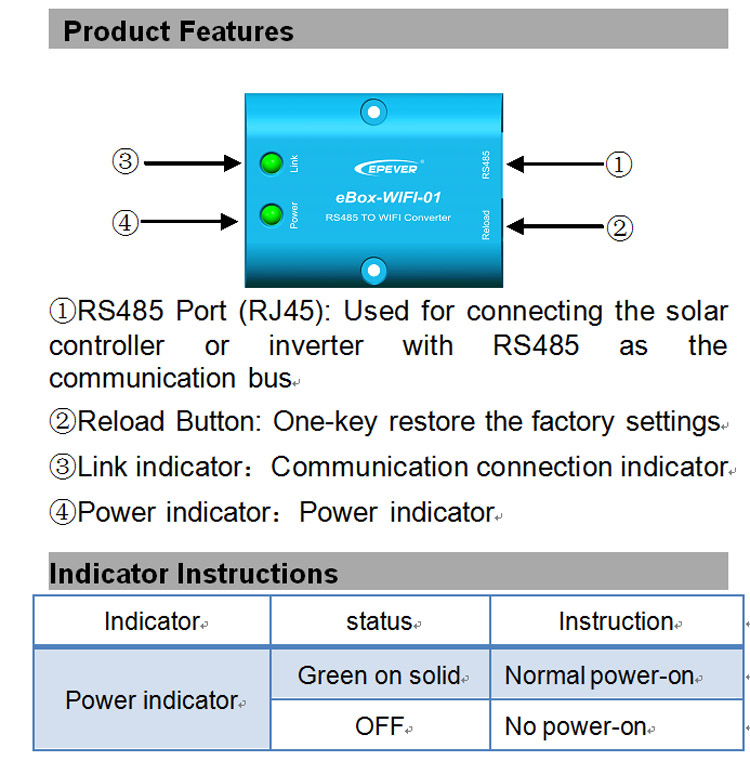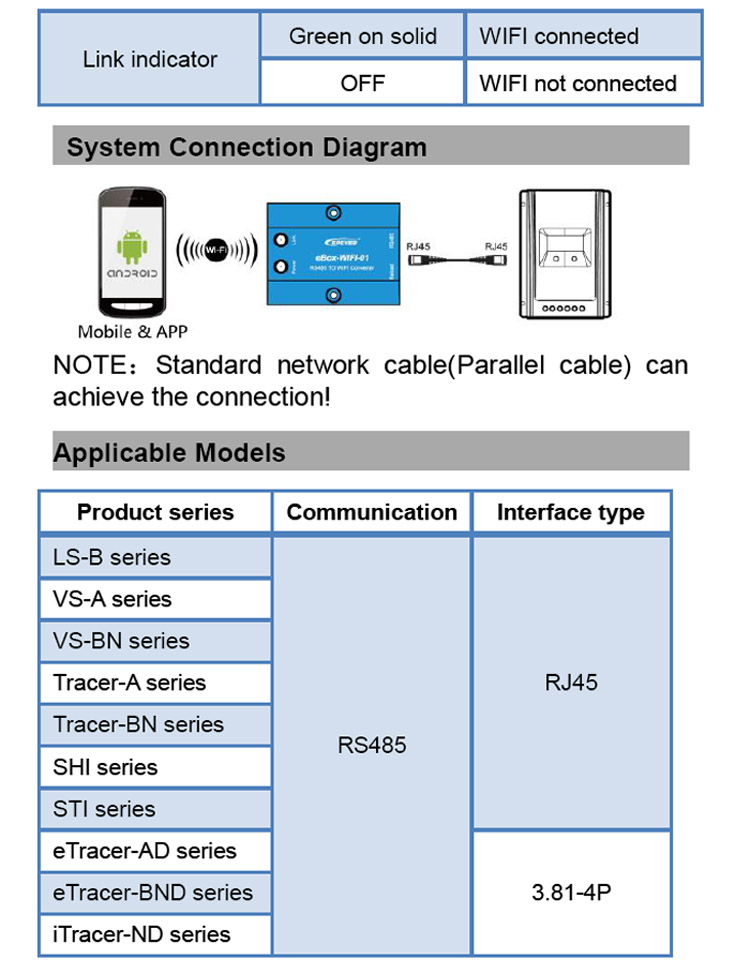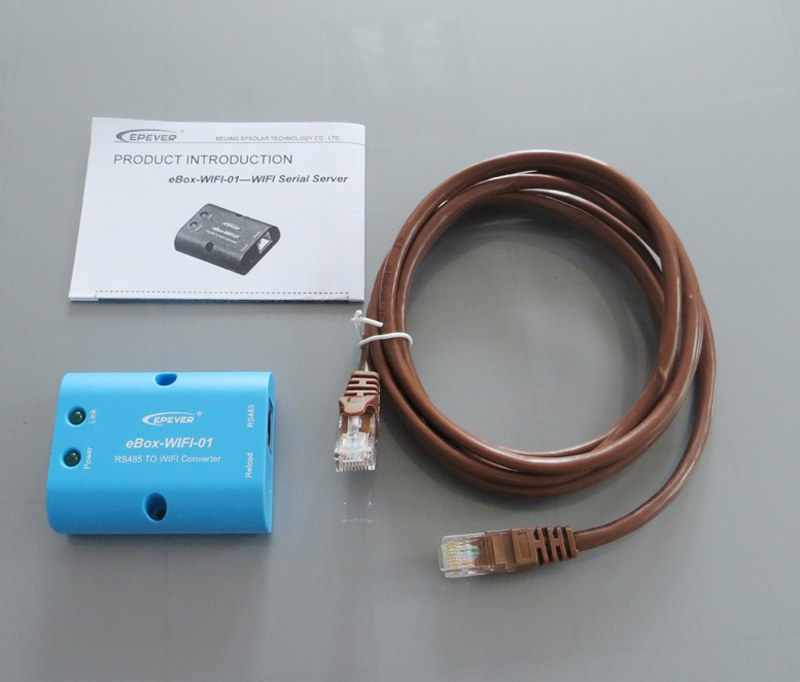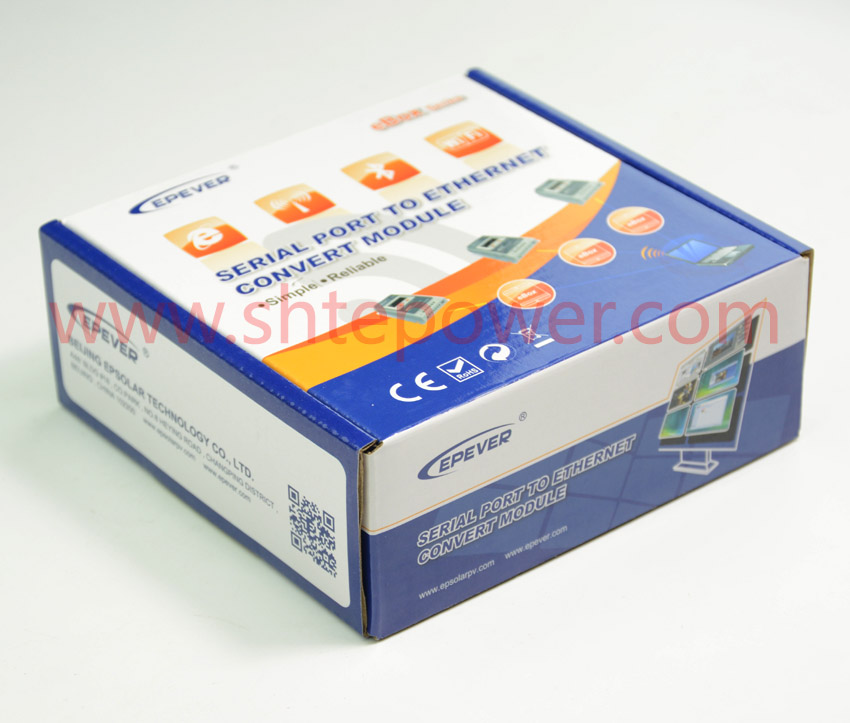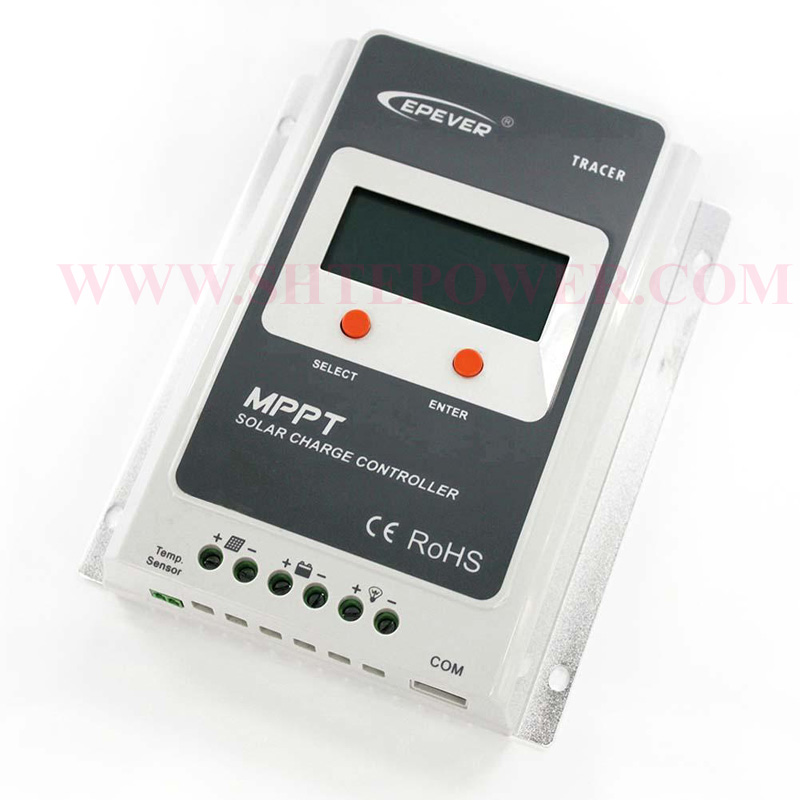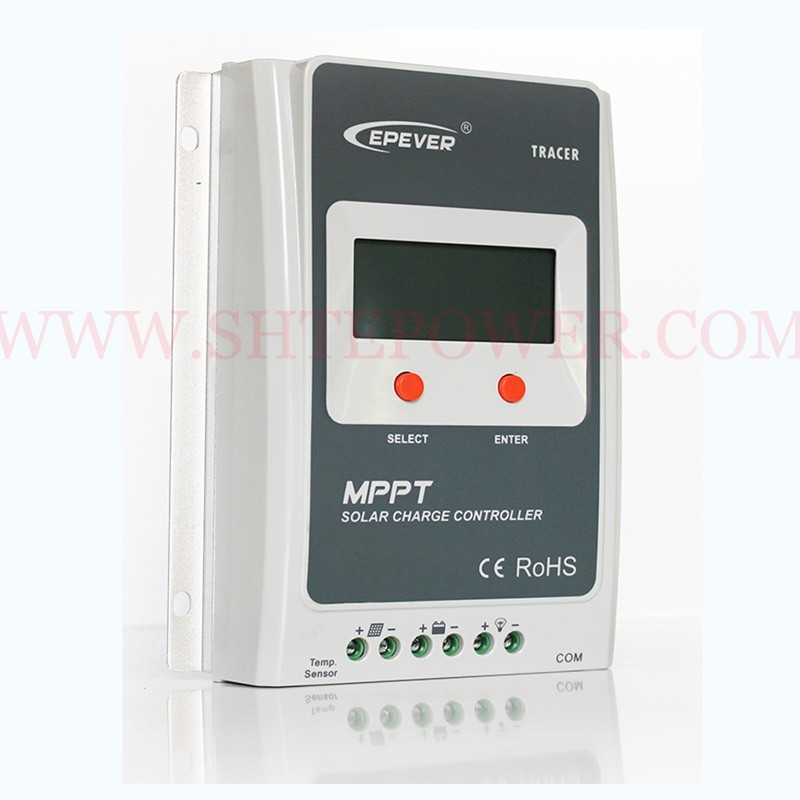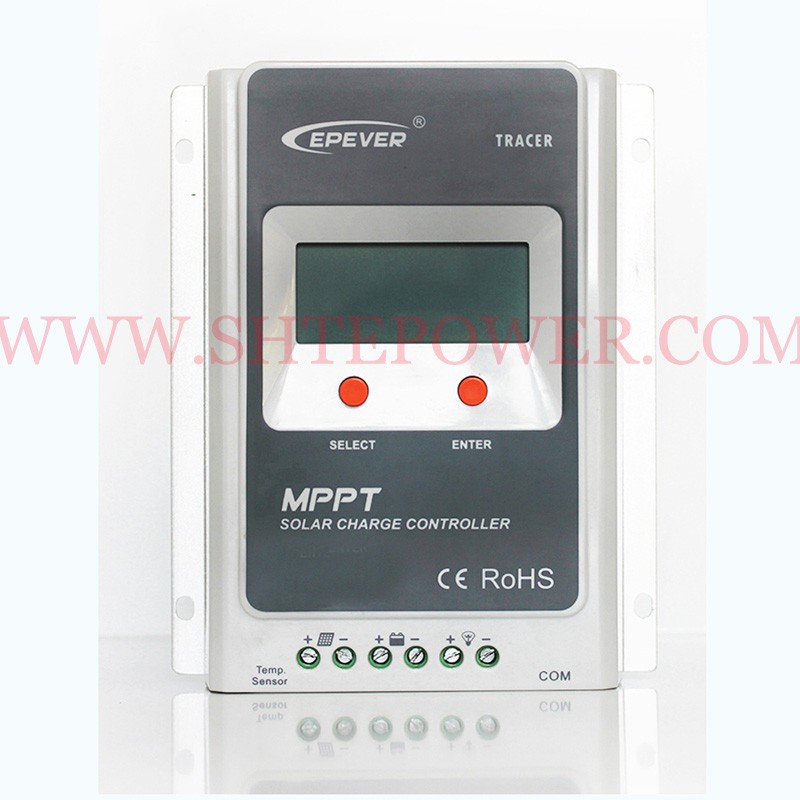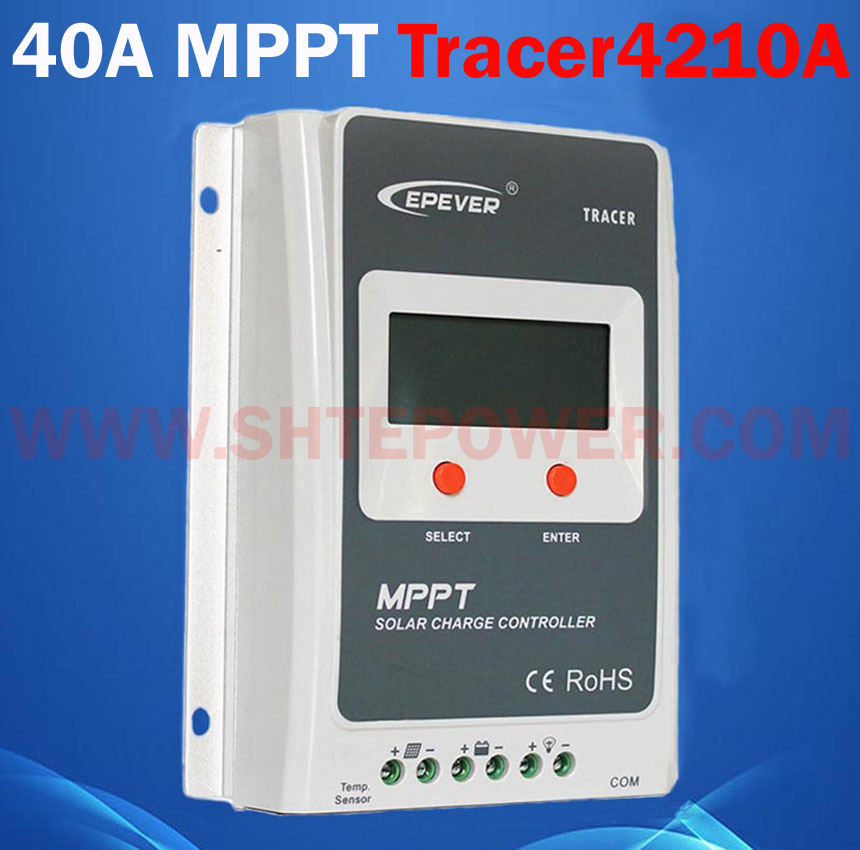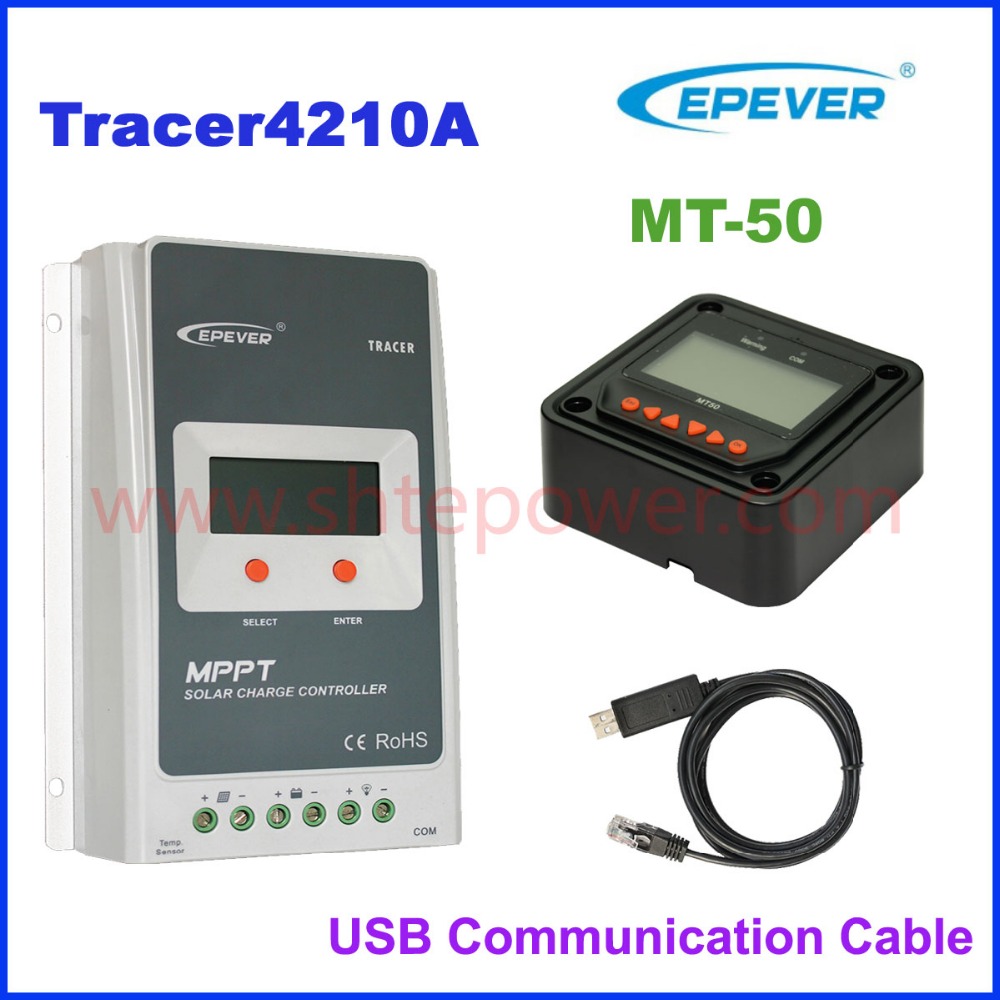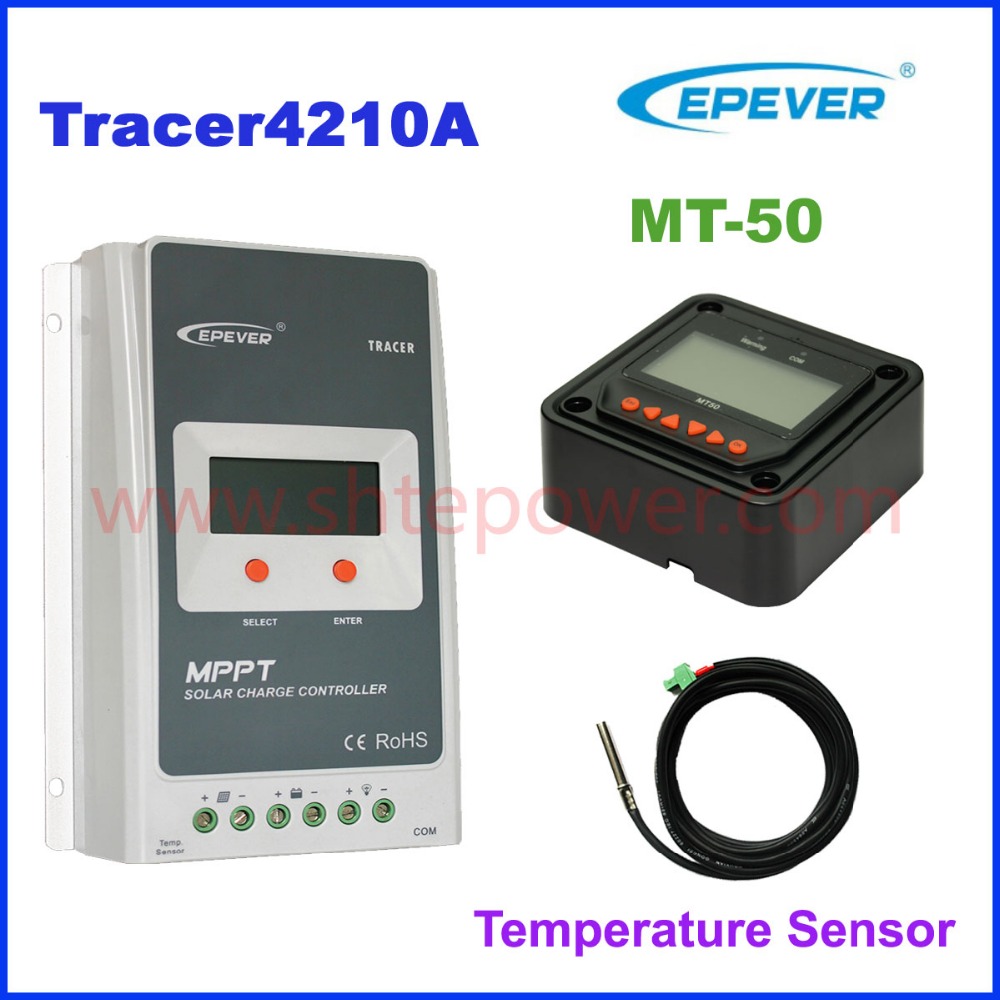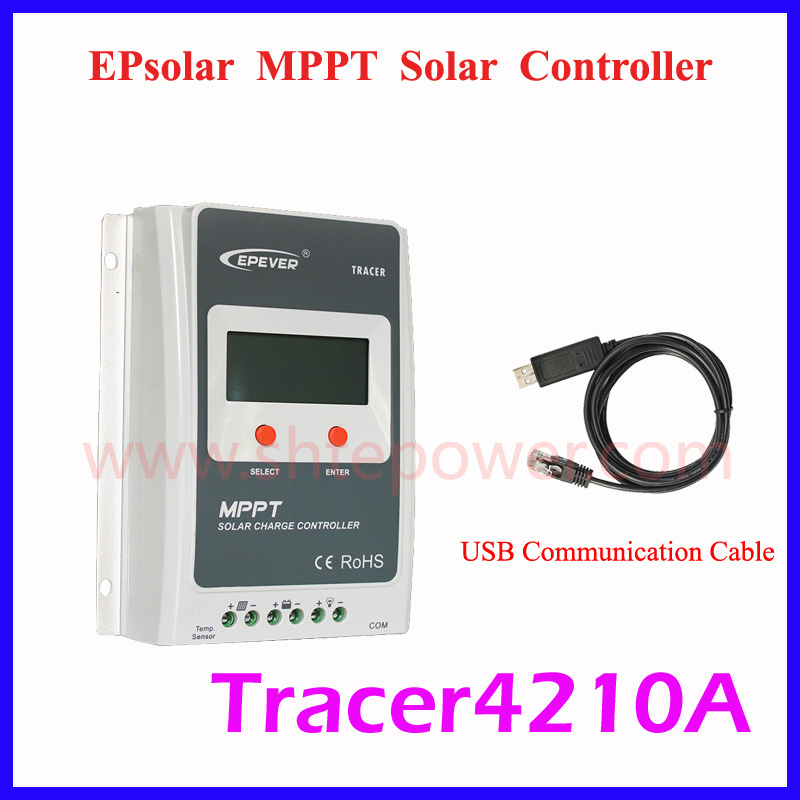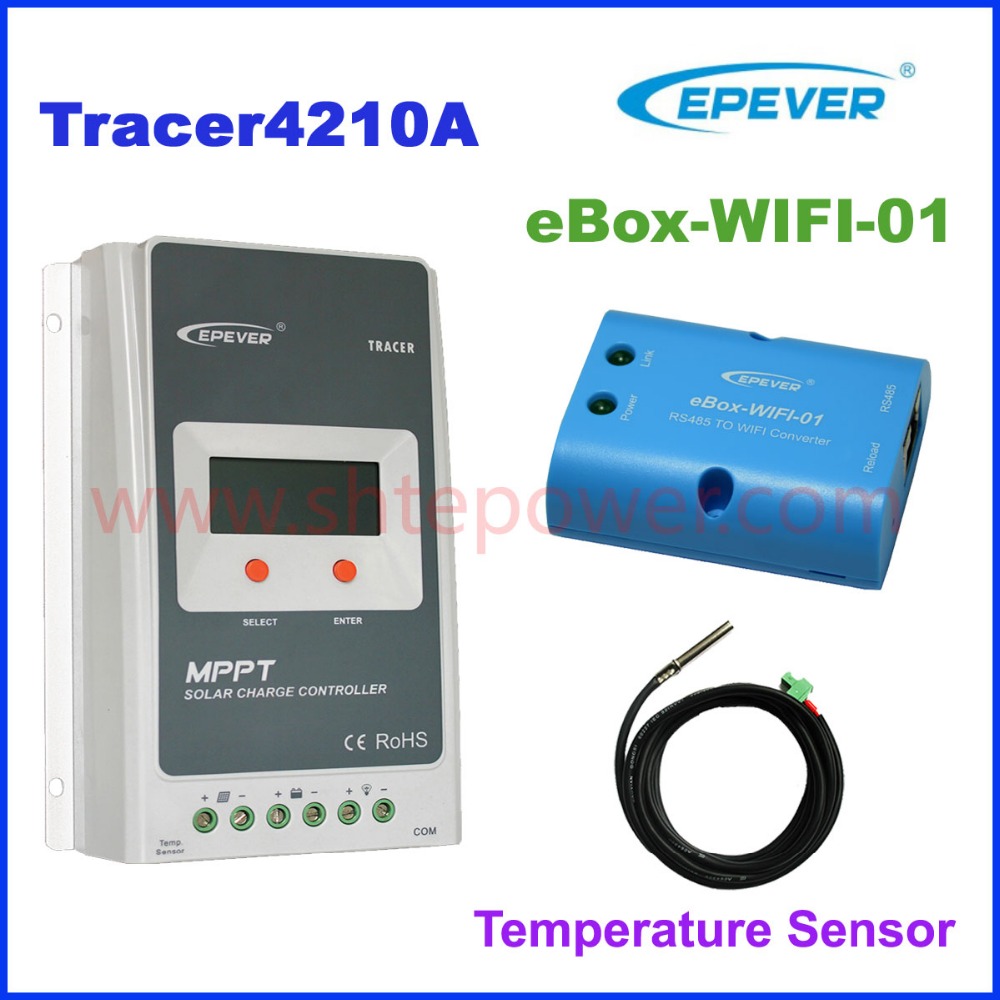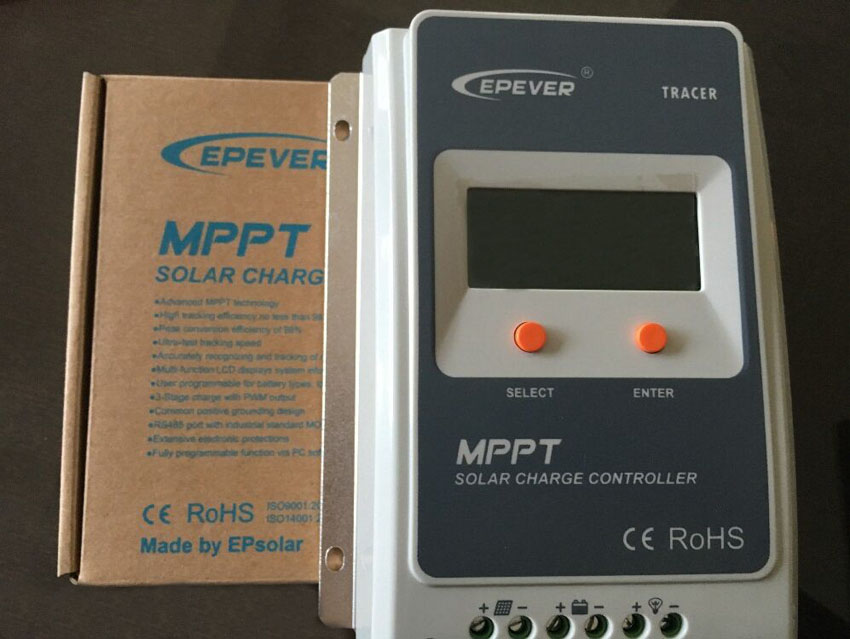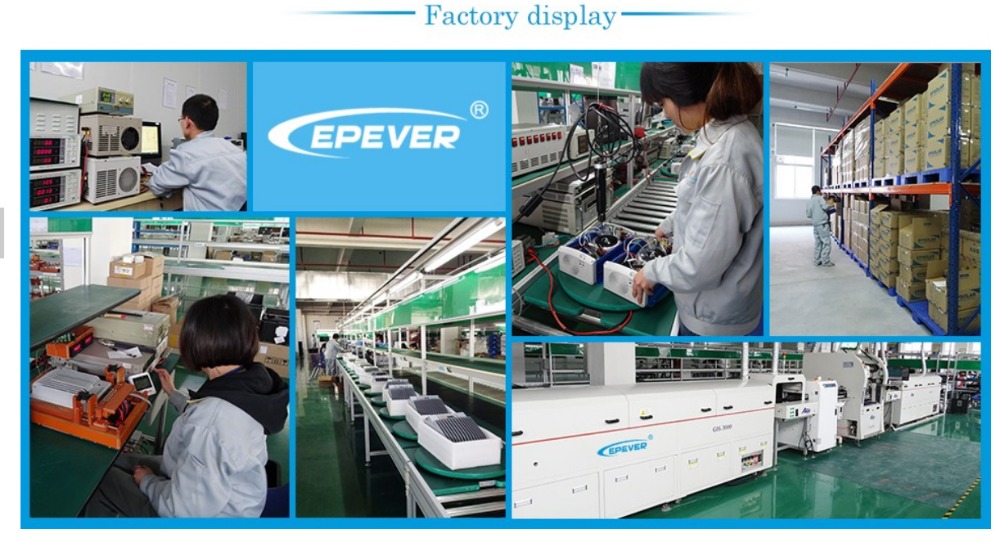 Shipping:

We guarantee to ship out within 72 hours after payment confirmation (except Holiday).
We are not responsible for any accidents, delays or other issue that are the responsibility of the shipping service.
In order to ensure you receive you order less tax upon import, we will declare it as a 'Sample' with a lower value. This lower price doesn't reflect the total price you paid or the market value of the product and may not apply to countries with different tariff rules. Any import charges or fees are the buyer's responsibility.
Delivery time is approx. 7 to 15 business days (excluded Saturday & Sunday, Public Holiday).
Please contact us if you don't receive it over above 4 weeks, we will solve this problem in a very short time.
For item's safety, insurance is highly recommended.
All our items will be shipped to buyer's Wholesales Alibaba address please confirms your address on Alibaba before you bid. Please make sure the shipping address is correct. We are not responsible for any wrong or undeliverable addresses.
Feedback:
We depend on our Alibaba reputation and customer satisfaction to succeed. Therefore, your feedback is extremely important to us.
If you love my items please leave me good feedback. Your action will help us offer our milk and bread. I will do the same for you.
Please contact us before leaving any negative of neutral feedback. We will work with you to solve any problems.
Return:
we provide 2 year warranty. If the item is defective, please notify us within 3 days of delivery.
All items must be returned in their original condition, in order to qualify for a refund or exchange of goods.
But shipping fee and insurance is not refundable.
Items returned after 7 days of delivery are only eligible for repair.
The buyer is responsible for all shipping costs incurred.