MPPT 30A Tracer 3210A Solar Charge Controller 12/24V Auto PV Regulator with MT50 Meter Ebox BLE USB Cable and Temperature Sensor
>>Overview:
Appreciate you for choosing MPPT solar charge controller, Tracer-A series. Based on common positive design and advanced MPPT control algorithm, with LCD displaying running status, this product is artistic, economical and practical.
With MPPT control algorithm, in any situation, products of this series can fast and accurately track out the best maximum power point (MPP) of photovoltaic array, in order to obtain the maximum solar energy in time, which remarkably improves energy efficiency. There is dual display function: local LCD panel and remote meter. With Modbus communication protocol interface, it is convenient for customers to expand applications and monitor in various fields like telecommunication base station, household system, street lighting system, wilderness monitoring system, etc.
All-round electronic fault self-test function and enhanced electronic protection function could furthest avoid damages on system components resulting from installation errors or system failures.
MT50 is an optional remote meter to monitor and program EPsolar controller, compatible with:LS-B, LS-BP,VS-BN, Tracer-BN,Tracer-A, eTracer, iTracer.
eBox-BLE-01 is a kind of serial adapter which can make our company's solar controller and inverter be with Bluetooth communication function, and carry out wireless monitoring, parameter settings, and etc. for the system only by cooperating with mobile phone APP.
?
>>Feature:
3210A
Advanced Maximum Power Point Tracking (MPPT) technology, with efficiency no less than 99.5%.

High quality components, perfecting system performance, with maximum conversion efficiency of 98%.

Ultra-fast tracking speed and guaranteed tracking efficiency.

Accurately recognizing and tracking of multiple power points.

Reliable automatic limit function of maximum PV input power, ensuring no overload under any circumstance.

Wide MPP operating voltage range.

12/24VDC automatically identifying system voltage.

LCD panel display design, dynamically displaying tool's operating data and working condition.

Multiple load control modes: manual control, light ON/OFF, light On+Timer and test mode.

Support 3 charging preprogram options: Sealed, Gel, Flooded.

Battery temperature compensation function.

Real-time energy statistics function.

With RS-485 communication bus interface and Modbus communication protocol, it is available to meet various communication requirements in different situations.

Available for EPsolar network module (eBox--01)with protocol TCP/UDP/SNMP, to realize connection to internet.

Available for PC monitoring and external display unit connecting like MT50 and so on, realizing real-time data checking and parameters setting.

Support software upgrade.
MT50
Automatic identify the controller, and display relevant parameter data

Large-screen informative LCD displays all the operating data and system working status

Simple and convenient operation

Real-time alarm of failure information

Longer communication distance based on RS485

Diversified load control modes : Manual Control, Light ON/OFF, Light ON+ Timer, Time Control

Battery type selection: Gel, sealed, flooded and User(programable)

Programmable parameters

Energy statistics display function
EBOX-BLE
Realize wireless monitoring function of solar controller and inverter

Support mobile phone APP, plug and play, simple and convenient to set

Use high performance, ultra-low power consumption Bluetooth dedicated chip

Adopt Bluetooth 4.0 and BLE technology

Fast communication, strong anti-interference ability

No need of external power supply

Communication distance up to 10 m

Master reset adapter
?
>>Characteristics: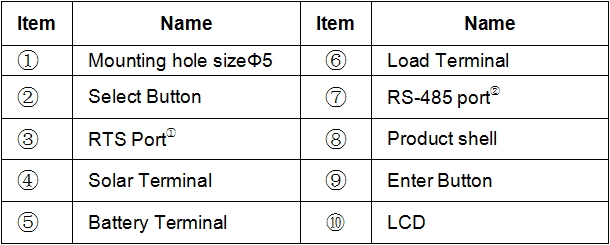 >>Specifications:
Model

Tracer1210A
Tracer2210A
Tracer3210A
Tracer4210A
Nominal system voltage
12/24VDC auto work
Rated charge current
10A
20A
30A
40A
Rated discharge current
10A
20A
30A
40A
Battery input voltage range
8~32V
Max. PV open circuit voltage

100V(at minimum operating environment temperature)

92V(at 25℃ environment temperature)

MPP voltage range
VBAT+2V~ 72V
Max. PV input power
130W(12V)
260W(24V)
260W(12V)
520W(24V)
390W(12V)
780W(24V)
520W(12V)
1040W(24V)
Equalize charging voltage
Sealed: 14.6V, Flooded: 14.8V
Boost charging voltage
Gel: 14.2V, Sealed: 14.6V, Flooded: 14.8V
Float charging voltage
13.8V
Low voltage reconnect voltage
12.6V
Low voltage disconnect voltage
11.1V
Self-consumption
≤20mA/12V; ≤16mA/24V
Temperature compensation coefficien
-3mV/ ºC/2V(25 ºC)
Working temperature
-25 ºC ~+45 ºC
Enclosure
IP30
Overall dimension
172x139x44mm
220x154x52mm
228x164x55mm
252x180x63mm
Power terminals
12AWG(4mm2)
6AWG(16mm2)
6AWG(16mm2)
6AWG(16mm2)
Net weight
0.6kg
1.1kg
1.2kg
1.9kg
Model
MT50
Self-consumption

Backlight and acoustic alarm on<65mA

Backlight on<23mA

Backlight off <15mA

Faceplate dimensions
98×98 mm / 3.86×3.86 in
Frame dimensions
114×114 mm / 4.49×4.49 in
Connector type
RJ45
Meter cable
Standard 2m, max .50m
Meter weight
0.190 Kg
Model
EBOX-BLE
Input Voltage
5VDC (Direct powered by RS485 port )
Standby power consumption
0.04W
Operation power consumption
0.05W
Communication distance
≤10m
Port baud rate
300bps~230400bps(Default 115200)
Communication
RS485 to BLE
Interface type
RJ45
Connecting cable
Standard network cable (Parallel cable)
Overall dimension
51*67*24.5mm
Mounting dimension
41.2
Mounting hole size
Φ3.2
Working temperature
-20~70℃
Enclosure
IP30
Net weight
37g
Model
RTS300R47K3.81A
Line length
3m
Rated resistance(Thermistor)
47K
Connector
3.81mm/2P
Testing temperature
-55℃~+125℃
Testing precision
±1℃
>>Product Show: