esmart MPPT solar controller 48V 15A eSmart 15A 48V 12V 24V 48V auto work Gel Vented NiCd etc esmart-15A
Product Description
This eSMART MPPT (maximum Power Point Tracking) solar charge controller is a smart solar controller with automatic recognition function, smart charging and discharging function, three stages charging function to protect battery. It can increase 30%~60% efficiency than traditional PWM controller. It supports many kinds of batteries.It also have RS232 communication function.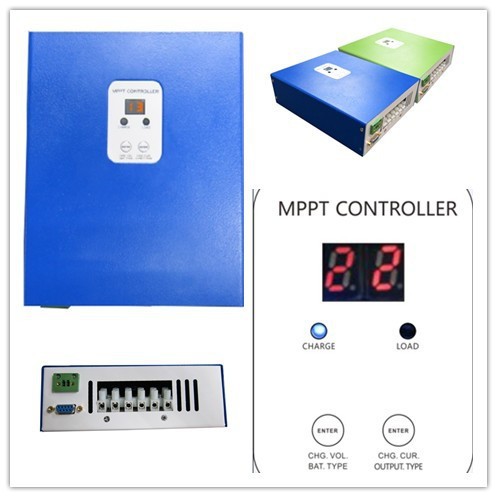 2.1 ENTER1 button: press left ENTER1 show 2 digital battery voltage(if it is charging, then shows 2 digital charge voltage), for example,the battery voltage or charge voltage is 13.5V, it shows13,please see Figure 2.1;Press ENTER1 a little bit longer, users can set battery types.
2.2 ENTER2 button: press right ENTER2 show 2 digital battery current (if it is not charging, then it display 00, if the charge current is 22.5A, then it shows 22,please see Figure 2.2); press ENTER2 button a little bit longer, DC load control can be set (On mode, Off mode, PV voltage control mode)
Please see more details in the user manual.
Main Features
1. MPPT charging mode, peak efficiency up to 99%, saving 30%~60% solar panel than traditional PWM controller.
2. DC12V/24V/48V battery system automatic recognition, users can use it in different system conveniently.
3. Maximum PV input voltage up to DC100V.
4. Three stages charge: fast charge(MPPT), constant voltage charge,floating charge, It can protect batteries well .
5. Three option of discharge: on mode and off mode and PV voltage(solar) control mode.
6. Users can choose 4 kinds of commonly standard batteries(Sealed lead acid, Vented, Gel, NiCd). Other kinds of batteries can be defined by users.
7. Digital tube can display battery voltage and charging current. The software can display various parameters such as model number, PV input voltage, battery type, battery voltage, charging current, charging power, working condition.
8. RS232 communication, we can offer communication protocol also, it's convenient for user's integration management.
9. This controller can be paralleled infinitely.
10. CE and RoHS Certifications are approved.We can help clients to approve other certifications.
11. 2 years warranty; 3~10 years extended technical service.
Specification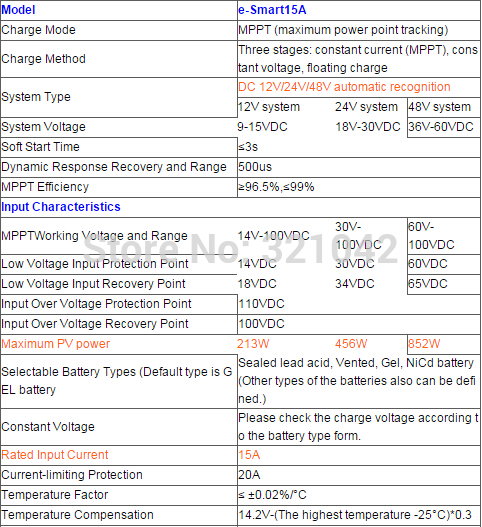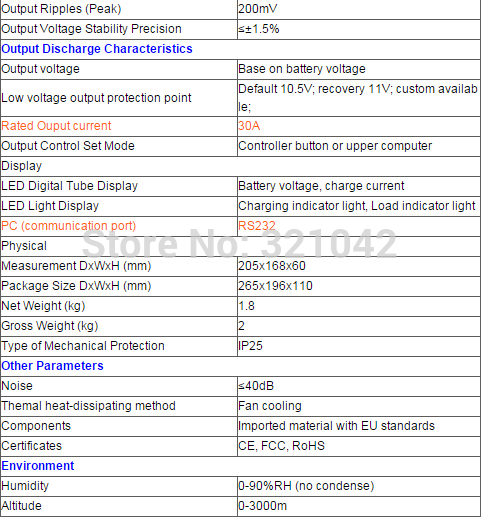 1.overview:Access main interface as follows: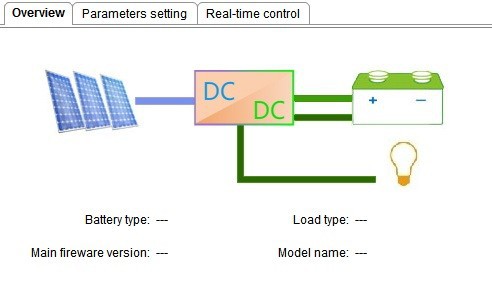 2. Com Setting ( Com) Setting up the connection between software and PC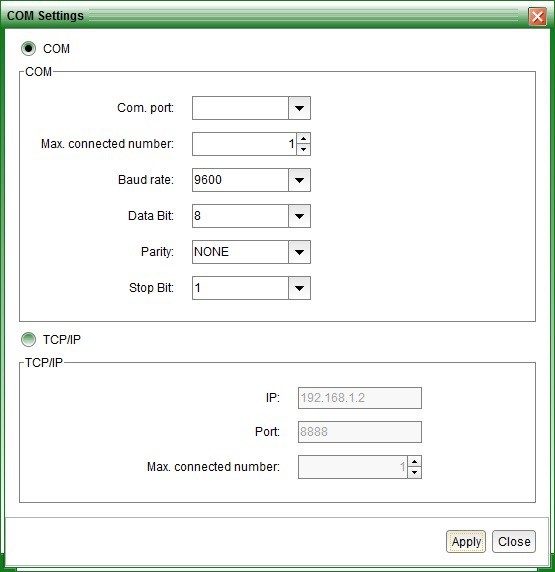 3.Setting:battery type set and load control set interface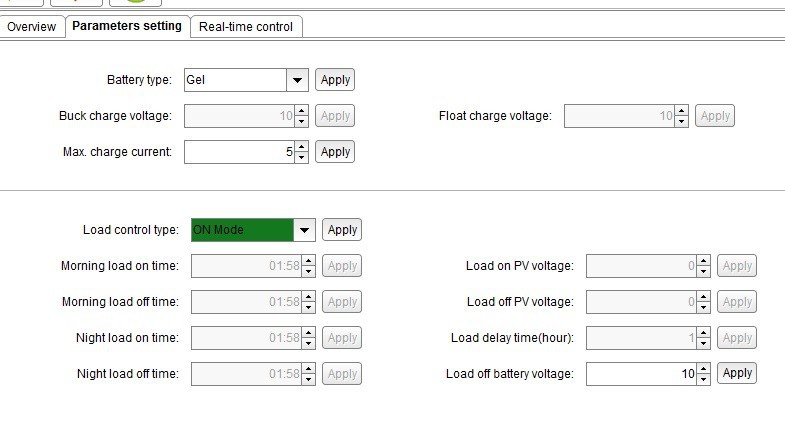 1) This controller can charge DC: 12V, 24V and 48V battery systems. It will automatically recognize the system voltage
2) The controller has been pre-programmed to properly charge 4 battery types. See chart below. Any other types may be programmed using included software.
Selected Battery Type


Battery Type

Bulk Voltage

Floating Voltage

12V

24V

48V

12V

24V

48V


Vented

14.2V

28.6V

57.2V

13.2V

26.4V

52.80V


Sealed

14.2V

28.6V

57.2V

13.4V

26.8V

53.60V

Gel

14.2V

28.6V

57.2V

13.7V

27.40V

54.80V

NiCd

14.2V

28.6V

57.2V

14.0V

28.0V

56.0V

Other

user-defined (using included software)

Battery Type is defaulted to Gel. To change use the keypad on the display
Parts List: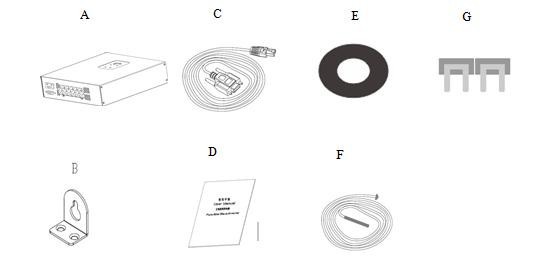 A 1 unit Charge controller
B 2 pcs &4pcs Hang bracket & screws
C 1pce RS232 to RJ45 comm cable
D 1 pce Manual
E 1 pce CD
F 1 pce Bat Temp Sensor
G 2 pcs Spare Fuses
Application
1) Solar off-grid energy generation system
2) Solar energy/utility power complementary power generation system