PLF120-L1 130mm planetary gear reducer ratio 3:1 to 10:1 for 100mm AC servo motor shaft 19mm
Note:
1, Please write the Ratio you need after order. will ship Ratio 10:1 in default if NOT write it.
Offered Ratio:3:1, 4:1, 5:1, 7:1, 10:1
2,If the diameter of your motor NOT matched, please ask if we can offer the sleeve for the shaft to match it
3,If you need the PLE circular type reducer, Please note it after order.
The matched motor size:
| | | | |
| --- | --- | --- | --- |
| Frame | Shaft diameter | Rabbet | diagonal Screw hole distance |
| 100mm | 19mm | 95mm | 130mm |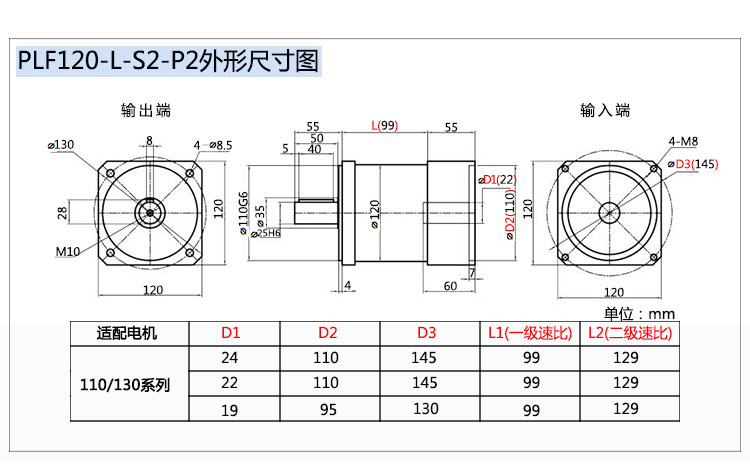 The main specification of the PLF120-L1 planetary gear reducer:
| | |
| --- | --- |
| Ratio | 3:1, 4:1, 5:1, 7:1, 10:1 |
| Rated output torque | 86N.m-210N.m |
| Maximum | 1.5*rated torque |
| Rated Input speed | 3500rpm |
| Maximum input speed | 6000rpm |
| backlash | <=8arcmin |
| Maximum output radial force | Fr=1240N |
| Maximum output axial force | Fa=1000N |