Place of Origin: Guangdong, China (Mainland)
Brand Name: Xfoyo
Model Number: FY86ES352 Phase: 2
Type: Straight wire rod Certification: CE
Step Angle(degrees): 1.8 Degree Holding Torque: 4.5
Current / Phase: 3.5A Rated current: 3.5A
Resistance: 1.0 Inductance: 4.4
Moment of inertia: 1500 Length of the motor: 80
Lead line number: 8 Step distance: 0.01-0.127
Holding torque: 4.5 Adapter driver: FYDM506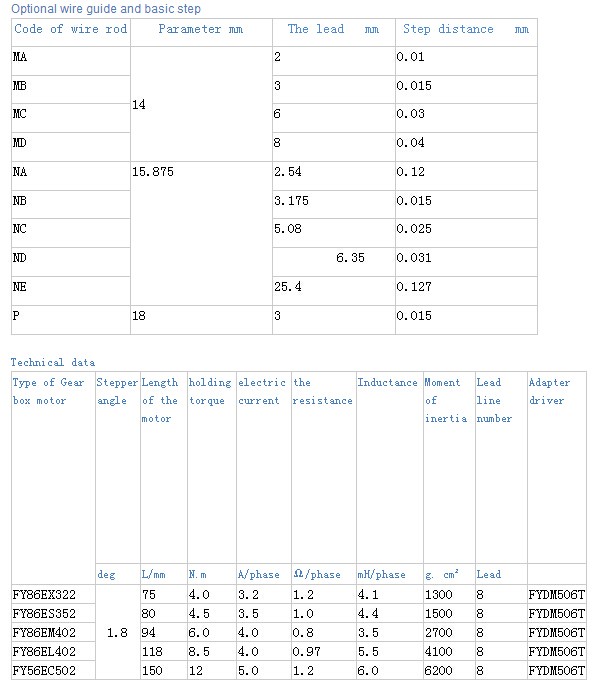 1.Above form is only a representative product, can be produced in accordance with the requirements.
2. Customized the electrical parameters of the motor, winding specifications, the size of the shaft shape according to your requirements
3 .The standard products is 4 line motor which the steps angle is 1.8°. We can provide 6 lines motor and the steps angle is 0.9°for choices in customer's requirements.
4. We can follow your requirements to match the power off brake.
Appearance and Installation dimensions of the external drive motor
Length of lines is 500 ± 10 mm
Appearance and Installation dimensions of the through shaft motor
rotation rate-- -- torque characteristic curve
1 Please do not connect the wrong phase when the motor is connected to the drive.
2 Due to the different driving conditions, the motor may shows obvious heat, the surface temperature of motor is not allowed to exceed 85 degrees Celsius in the process of running.
3 when the motor is installs, the front cover of the motor must be installed to locate the position of the stop, and pay attention to the tolerance fit. Accuracy of the concentric the motor shaft and the load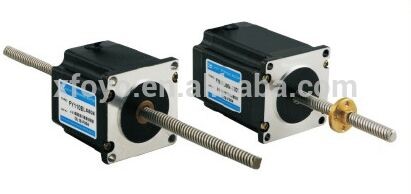 if you have any problems of payment please contact us!
if you need to buy more goods but the price isnotvery cheap please contact us!
All products have been checked and packaged in good condition before dispatch.
ALL peoducts have 1yeas warranty.
If you are not satisfied with our product and service.Please contact us first before giving a non positive feedback or dispute.we will try to our best solve the problems