Nema23 3ph Hybrid Servo 3Nm Closed-loop Stepper Motor + DC20~50V Stepper Driver Kit + Gearbox
1, Package Included :
1 x 3phase Stepper Motor
1 x Stepper Driver
1 x 3M encoder cable
1 x LRF60-L1-3-S-P2 Gearbox Reducer
2 , Application:
It is suitable all kinds of Small and medium-sized automation equipment and instrumentation.
Such as carving machine, wire-stripping machine, marking machine, cutting machine, laser machine, plotting instrument, medical equipment, CNC, etc. This is efficient for the equipment with Low noise and high-speed.
3, 3phase NEMA23 57mm Closed Loop Stepper Motor Electrical Specifications
Model

Phase

Holding

torque

Phase

current

Motor

Length

rotational inertia

Weight

Encoder

ppr

LC57H355

3

1Nm

3.5A

55+22mm

0.3g.m2

1kg

1000

LC57H380

3

2Nm

3.5A

80+22mm

0.5 g.m2

1.4kg

1000

LC57H3100

3

3NM

4A

100+22mm

0.7 g.m2

1.8kg

1000
4 , 3phase NEMA23 57mm Closed Loop Stepper Motor Mechanical Dimensions: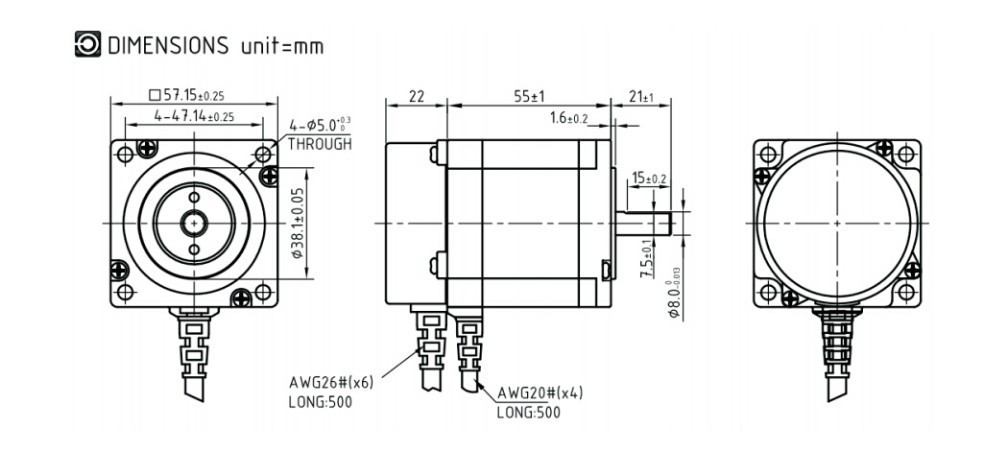 5, 3phase NEMA23 57mm Closed Loop Stepper Motor Wiring Diagram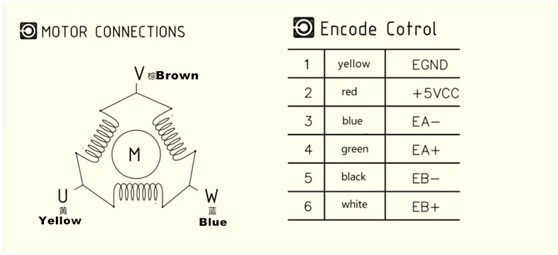 6, The suitable closed loop stepper motor driver LCDA357H functional characteristics:
Features:
Input voltage range: 18-50 VDC
Maximum peak current: 7A
Subdivision range: 200-51200ppr
Signal Input: Differential/Single-Ended, pulse/direction
Impulse response frequency: 200KHz
The electrical parameters of automatic tuning function
Closed-loop vector control to ensure the motor speed high torque output, while ensuring that the motor does not lose steps
Overvoltage, overcurrent, tracking error over poor protection
| | | | |
| --- | --- | --- | --- |
| Product | 3phase NEMA23 57mm stepper motor driver | Brand | LC |
| Model | LCDA357H | Suitable Motor | 3phase NEMA23 57mm stepper motor |
| Voltage | 18-50vDC | Current | 7A max |
| Subdivision | 2-256 | Signal voltage | 5v(need add Limiting resistor if 12V or 24V) |
| Pulse | 200kHZ | Alarm | support |
| Signal Input | Difference/single-end, Pulses/direction | warranty | 1 year |
7 , Closed Loop motor driver Parameter Description:
Parameter

LCDA357H

Min

Typical

Max

Unit

Max Current

7

A

Input Voltage

18

36

50

Vdc

Logic Input Current

7

10

16

mA

Pulse frequency

200

kHZ

Insulation resistance

500

Mohm
8, Interface Definition
1) The motor and power input port:
| | | | |
| --- | --- | --- | --- |
| Terminal No. | Symbol | Name | Description |
| 1 | U | Motor U phase Winding | |
| 2 | V | Motor V phase Winding | |
| 3 | W | Motor W phase Winding | |
| 4 | +Vdc | Input Power + | +18V~ +50V |
| 5 | GND | Input Power Ground | 0V |
2) The encoder signal input port
LCDA357H encoder signal interface with 15Pin of DB head, pin definitions in the following table:
| | | | |
| --- | --- | --- | --- |
| DB Terminal No. | Symbol | Name | Description |
| 1 | EA+ | Motor encoder A phase + input | |
| 2 | EB+ | Motor encoder B phase + input | |
| 3 | GND | Encoder Power Ground | 0V |
| 11 | EA- | Motor encoder A phase - input | |
| 12 | EB- | Motor encoder B phase - input | |
| 13 | VCC | Encoder Power | +5V |
3) control signal port
Name

Description

PUL+

Pulse input signal:

Pulse active edge adjustable, default pulse rising edge; reliable response to the pulse signal, the pulse width should be greater than 1.2μs. Such as using + 12V or + 24V is necessary series resistance.

PUL-

DIR+

Direction input signal:

High / low signal, in order to ensure reliable motor commutation, direction signal should be at least 5μs pulse signal is created. Such as using + 12V or + 24V is necessary series resistance.

DIR-

ENA+

Enable control signal, the input signal is used to enable or disable the driver output. ENA low-level (or internal optocoupler conducting), the drive will cut off the motor current phase of each motor is in a free state, not in response to the input signal pulses.

When not required for this feature to enable signal terminal vacant.

Such as using + 12V or + 24V is necessary series resistance.

ENA-

ALM+

Fault signal output, open-collector form.

Fault output logic can be set by PC software.

ALM-
Gearbox Reducer Dimension and Parameters :