1.Full support for MACH3, KCAM4, EMC2, and support parallel port to control the host computer software;
2.Leads to all the parallel port 12 data transmission output pin, which can control the five stepper motor driver;
3.With 5-way input interface, can take the limit switch and emergency stop switch, reset, and the knife;
4.5 input LED indicates the status of the input;
5.With the way 12A relay control, normally open, normally closed leads, user-friendly connection;
6.Supply 5V USB power supply or external power supply to facilitate the access of external power supply;
7.On the external drive enable signal amplification, filtering, enhancement processing;
8.Pulse, the direction of signal shaping, enhanced load capacity, data transmission speeds reach 10 MBit / S;
9.Output pins with the expansion interface can 2.54mm pin 2.54mmXH-Block;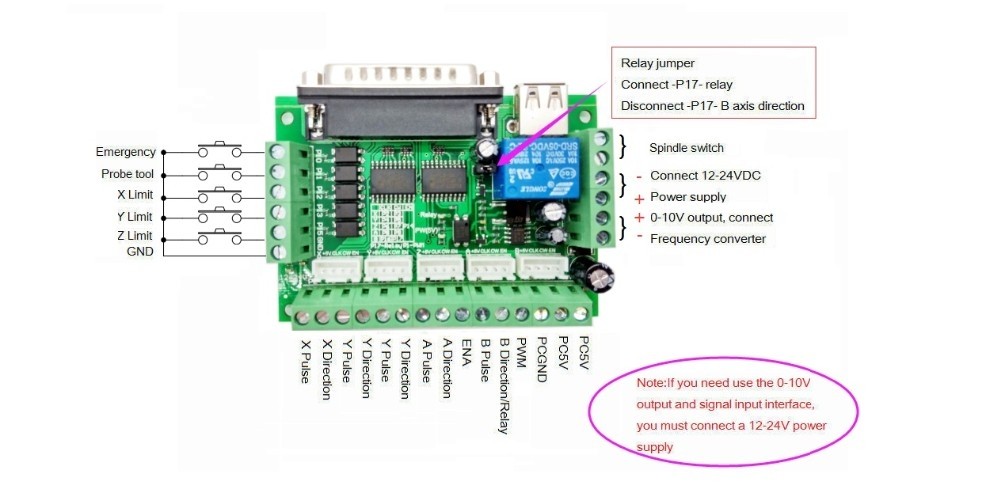 TB6600 Single Axis Stepper Motor Driver
High performance, cost-effective.

Automatic idle-current reduction.

Supply voltage up to 50V DC

Output current up to 5.0A.

Suitable for 2-phase and 4-phase motors.

High speed optoelectronic isolation signal input.

Single-chip PWM bipolar sinusoidal chopper ensures low vibration and high efficiency.

1, 2, 4 (New Mode), 8, 16 adjustable microstep control, motors run more precisely and smoothly.

Equipped with the 3rd generation of breakout board, display panel and control pad to control the motor manually.

Overload, overcurrent, overheat, overvoltage and undervoltage protection to avoid damaging your computer and devices.

Cooling Aluminium Box Design for Cooling, and protect the driver board from being damaged by dirt, dust or other liquids
This item is a high performance micro-stepping driver based on the latest original TOSHIBA high-efficiency TB6600HG IC. The TB6600HG adopts single-chip PWM bipolar sinusoidal chopper to ensure the low vibration and high efficiency. Moreover, the brand new design with BiCD0.13 (50V) process technology on the chipset also ensures maximum 5.0A output current and 50V output withstand voltage. Consequently, as long as the current range of the stepper motor is within 0.2-5 amps, all the 2 Phase or 4 Phase of Nema17, Nema23, Nema24 and Nema34 stepper motors will work perfectly with this new-type TB6600HG Stepper Driver
- average current control, two-phase sinusoidal current drive output
- DC 12 ~ 48V power supply, the internal integration of 12V and 5V regulator
- optically isolated signal input / output
- overvoltage, undervoltage, overcurrent, and white short-circuit protection
- Input voltage DC 12 ~ 48V input
- The input current of 1 to 5 amps, select the drive a stepper motor.
- Output current of 0.2A ~ 5A
- Temperature Operating Temperature -10 to 45 C; Storage temperature -40C to 70C
- Humidity not condensing, not drops
- Gas prohibit combustible gas and conductive dust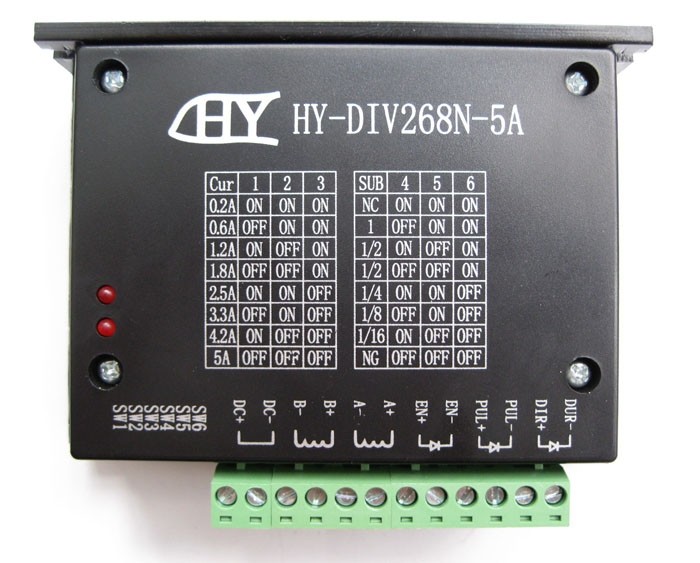 The 57J1876-447 two-phase stepper motor is suitable for a wide range of motion control applications. Terminated with 8 motor leads, the motor can be connected in a few different ways, including bipolar series ,bipolar parallel and unipolar.
•2 phase 1.8° stepping angle
•Holding toque of 2.2 N*m (312 oz-in)
Suitable for all kinds of small automation equipment and instruments, such as: pneumatic marking machine, marking machine, cutting machine, laser marking machine, plotter, small engraving machine, CNC machine tools, handling equipment, etc. The efficiency is very high for the users who expect low vibration, little noise, high precision and high speed small equipments.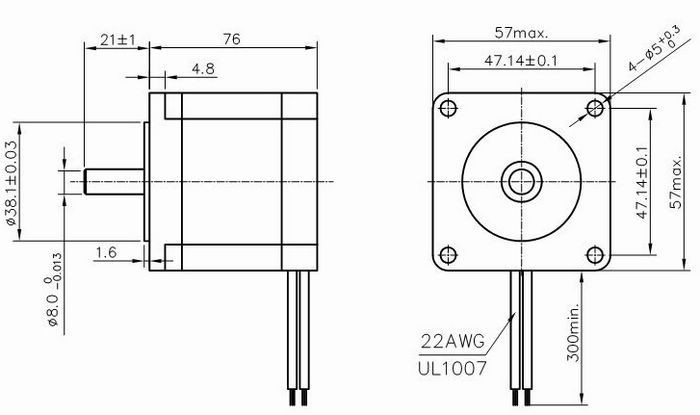 1. the range of AC input voltage is changed by the switch
2. high-efficiency, high reliability
3.100% full load burn-in test
4. Protections: Short circuit / overload / over voltage / over temperature
5. built-in cooling DC fan control
6. Working frequency is 25 kHz
12.Size:215 * 115 * 50mm(L*W*H)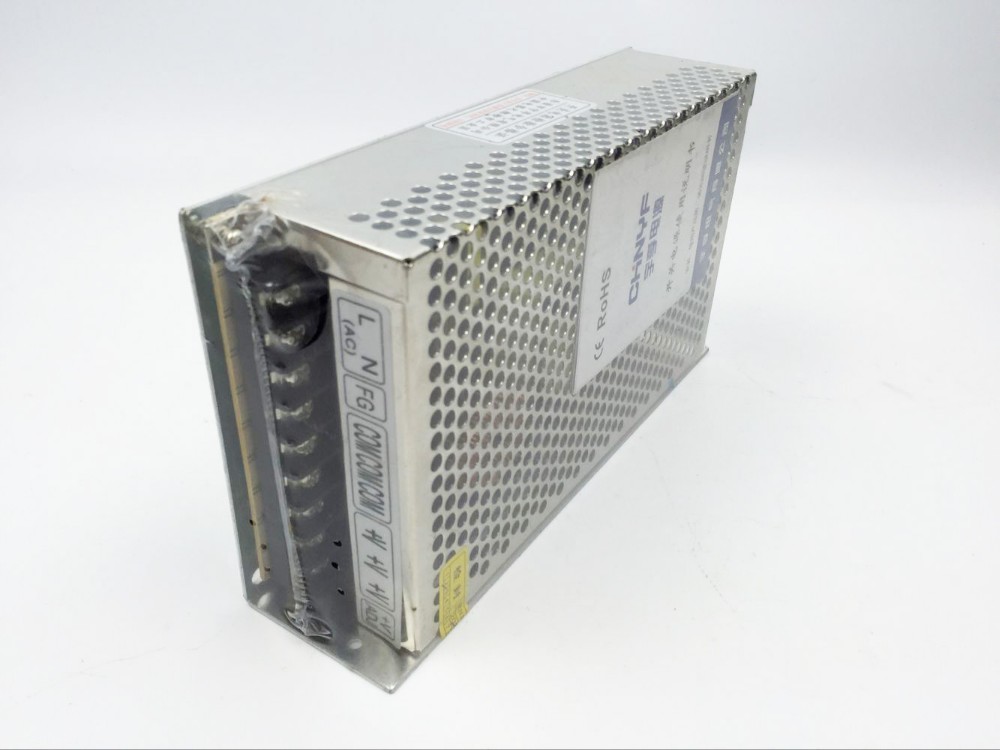 1 x 36V/10A switching power supply
4 x 1 Axis TB6600 stepper motor driver
4 x 57J1876 3A 312 oz/in stepper motor
1 x 5 axis breakout board
1 x USB cable Note (random color)
English user manual will send by a CD or Email